Description
This portable solar panel is perfect for the adventurous traveler, providing both convenience and dependability when venturing off the grid. The Renogy 200W Solar Suitcase comes with two 100W Monocrystalline Solar Panels, one 15in set of wires with MC4 connectors, and one protective soft case for safe portability. With its adjustable aluminum stand, latches, and heavy duty handle, this 200W Solar Suitcase will change the way the world looks at portable power.
If you have any questions regarding this product, please submit a case!
Key Features
Reliable
Adjustable, corrosion-resistant aluminum stand.
Heavy duty handle and latches for longevity.
Protective casing.
Smart
Compatible with gel, sealed, lithium, and flooded batteries.
Charge controller with LCD display for displaying operating information and data.
Safe
20A built-in 5-stage solar charge controller provides overcharge protection, reducing fire risk.
Negative-ground charge controller for compatibility with an RV, boat, trailer, etc.
The low-voltage system avoids electrical shock hazards.
Package Includes
200 Watt Monocrystalline Foldable Solar Suitcase

1 x

20A Voyager Charge Controller

1 x

Alligator Clips

1 x
| 200 Watt Monocrystalline Foldable Solar Suitcase | Renogy 20A Voyager Charge Controller |
| --- | --- |
| Maximum Power at STC: 200W | Nominal Voltage: 12 VDC |
| Open-Circuit Voltage: 21.8 V | Rated Charge Current: 20A |
| Short Circuit Current: 11.7A | Max. PV Input Voltage: 26 VDC |
| Optimium Operating Voltage: 18.5V | Grounding: Common Negative |
| Optimum Operating Current: 10.5A | Self-consumption: ≤8mA |
| Operating Temperature:: -40°C to 90°C | Operating Temperature: -40°F to 185°F |
| Dimension: 35.6 x 25.9 x 3.1 in | Dimensions: 6.38 x 3.82 x 1.34 inches |
| Weight: 35.9 lbs | Weight: 0.88 lbs |
Warranty Information
Panels

25-year power output warranty: 5 year/95% efficiency rate, 10 year/90% efficiency rate, 25-year/80% efficiency rate

3-year material and workmanship warranty

Accessories
1-year material warranty
Certification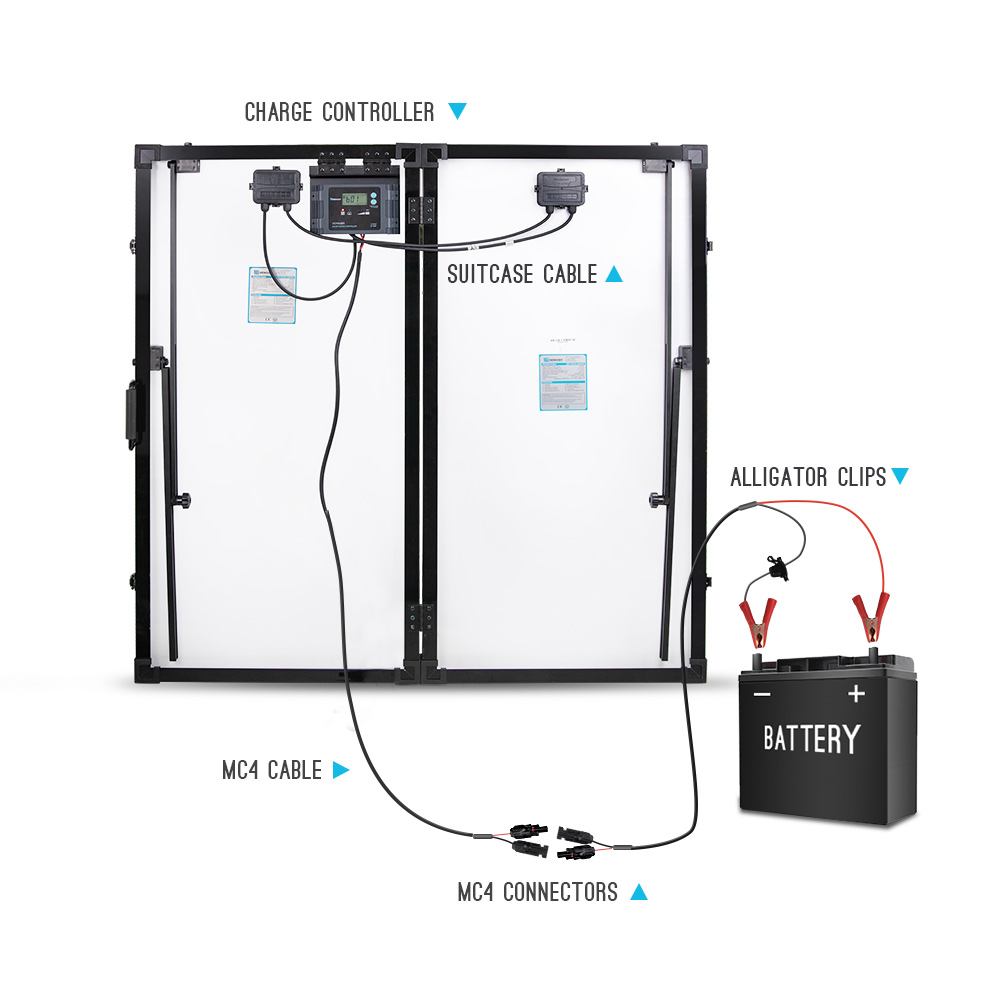 Reviews
Hide Reviews
Almost perfect solar kit
I was really impress when I received and unboxed this kit. Quality and well made. Wow! I used it at least 10 times since 3 weeks and it works really well even under cloudy days. I didn't have the opportunity to use it under a shady place so I cannot tell for that. The only thing I would and I will change on this kit is the wiring from the controller to the battery. Actually the kit come with a 14 AWG wiring on 12 feet. Considering voltage loss on this gauge, I will change the entire wiring for 10 AWG gauge. I think Renogy staff could think on that because for little more cost, this kit could be perfect !
Renogy 200 Watt 12 Volt Monocrystalline Solar Suitcase with Voyager controller
Kept my battery topped up all day while running my fridge electrical boards in my RV, this saved me running my propane generator which not only saved me money but is also very good for the environment. Product is well made and sturdy. Very easy to setup. only negative would be the weight of it but that is minor.
Excellent!!!
We've been using our Renogy panel for a year now and can say that it has outperformed the rated specs and gives us all we need to keep our off grid overlanding lithium battery fully charged when staying in camp for a few days. In good summer sunlight it consistently produces on average 1.8amp more than the rated spec shown. Sturdy and well made, I've had it set up in winds gusting to 20mph with no issues whatsoever.
Well Built and quality Stand
Have not had the chance to use it but it is a quality built portable suitcase. Large sturdy frame with corner guards and bolted very strong and because of this the suitcase can be a little on the heavy side but it is a good trade off. Comes with a nice zipped soft cover for protection but folds with the panels out so you should be careful not to bang the outside of the case while transporting. Unfortunately I have ordered two but only one has arrived. I have called support and they were very quick to return my emails and am now awaiting the ware bouts of my second panel. I would definitely recommend this product and am myself debating whether to order another 2 or go with 2 flex panels.
Excellent Product !!
Love my Solar suitcase. Super portable and quick to set up ... the quality of this product is Stelar !!! My first time purchasing Renogy, and will definitely buy again !!