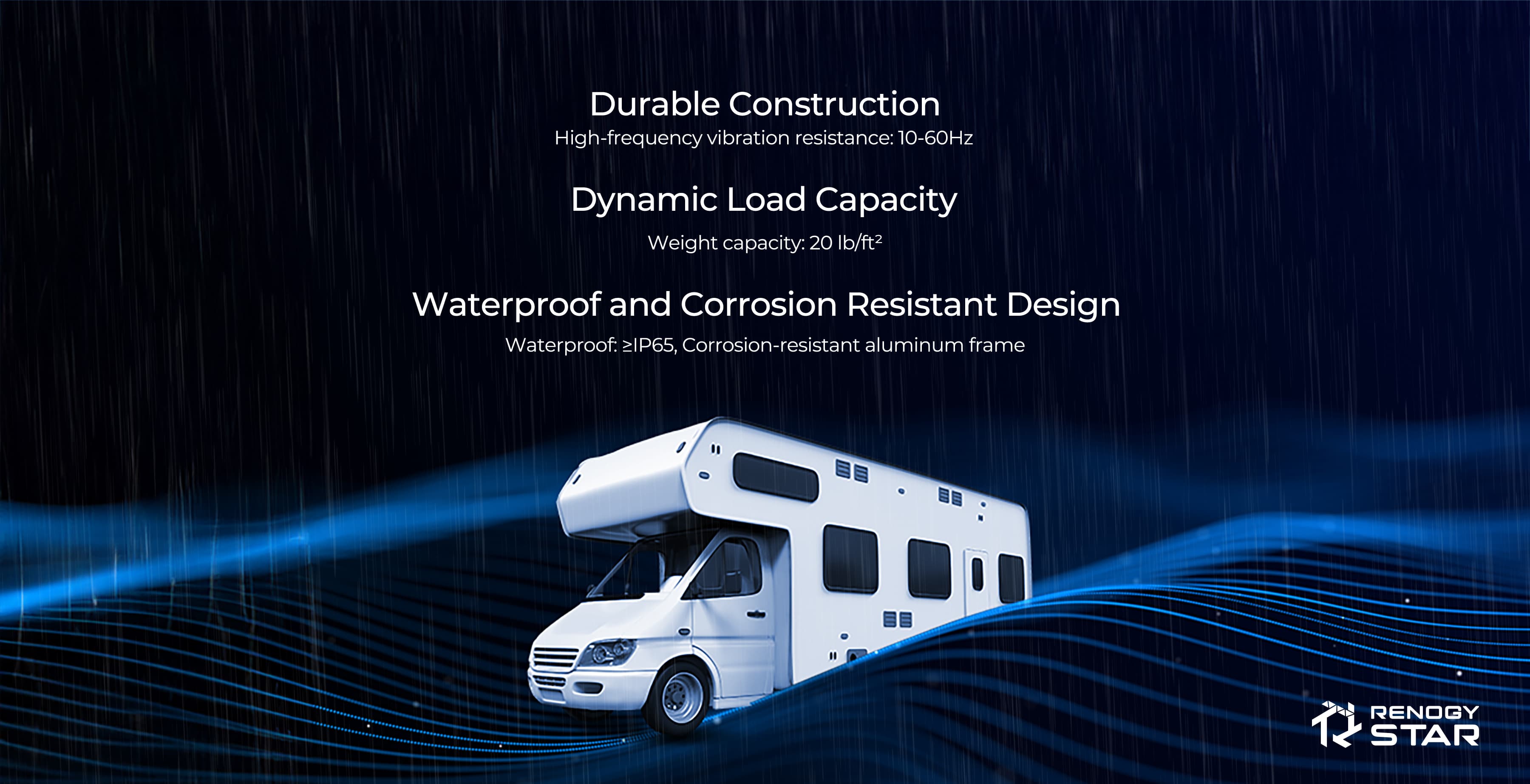 Renogy's latest innovative 115W bifacial solar panel is among the best solar panels for marine and RV applications, offering up to 30% higher energy output than traditional solar panels thanks to its bifacial design that captures sunlight from both sides. Featuring premium Grade A+ monocrystalline solar cells, PERC technology, half-cut cells, 10 busbars, and bypass diode network, this monocrystalline solar panel ensures high solar cell efficiency and solar panel output. It is a great option that can provide power even in the toughest environmental conditions.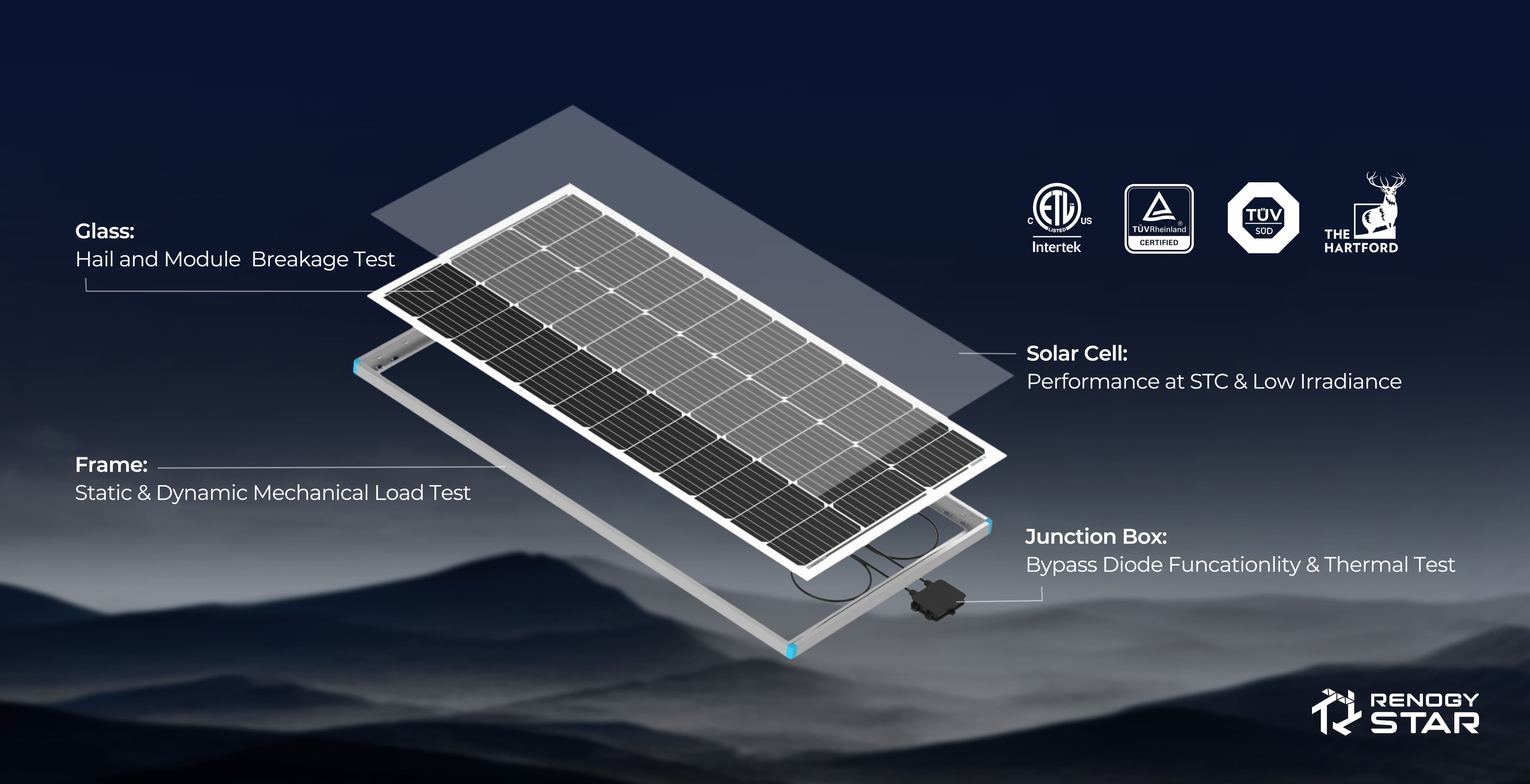 If you have any questions regarding this product, please submit a case.
Key Features
Bifacial Energy Yield up to 30%
With the ability to capture sunlight from both sides, this panel can provide up to 30% more energy compared to traditional solar panels.
More energy even in partially shaded
With its innovative design that incorporates PERC, half-cut cell, bypass diodes, and 10 busbar technologies, this panel can maximize energy output even when partially shaded and protect the solar cells from overheating.
More Generation on a Snowy Day
The bifacial design of our solar panel helps to accelerate snow shedding and warm up the panel more quickly. Additionally, with the back side always available, our panel can continue to provide unstoppable solar power for your off-grid life.
Fast and Easy Installation
20 pre-drilled holes on the back of the panel allow for fast mounting and securing, ideal for off-grid applications including RVs, rooftops, cabins, yachts, sunrooms and more. To get the most out of your solar panels, they are recommended for use with Renogy's RV Tilt Mount Brackets, Z-mounts, and corner mounts.
Build to last
With a durable IP68 rating junction box, and the ability to withstand wind loads of up to 2400Pa/0.35 PSI and snow loads of up to 5400Pa/0.75 PSI, plus an enhanced 25-year performance warranty, our solar panel is a reliable and long-lasting investment for your energy needs.
Package Includes
Bifacial 115 Watt 12 Volt Monocrystalline Solar Panel
1 x
Specifications

Maximum Power at STC: 115W

Module Efficiency:18.6%
Optimum Operating Voltage: 18.8V
Open Circuit Voltage: 21.9V
Optimum Operating Current: 6.12A
Short Circuit Current: 6.70A
Operating Temperature:

--40°F~194°F / -40℃~90℃

Maximum Series Fuse Rating: 15A
Dimensions: 786x763x30mm/30.9x30.0x1.2in
Maximum System Voltage: 1000VDC
Weight: 6.1kg/13.5lbs
Warranty Information
| | |
| --- | --- |
| Material and workmanship warranty | 5 Years |
| Performance Warranty | 5 year 95% output warranty 10 year 90% output warranty 25 year 80% output warranty |
Questions: What do I need to complete my off-grid solar power system?
Answers: A solar panel has to be connected a charge controller to regulate current, and a battery to store the electrical power. You will need adapter kit cables to wire the solar panel(s) and charge controller, and tray cables connecting the charge controller to a deep-cycle battery.
Questions: What does off-grid and on-grid mean?
Answers: On-grid simply means solar power equipment (array or solar panel) is connected to the electrical grid, while off-grid refers to systems that are not connected to the grid and therefore store the generated power for later use. Off-grid systems are not affected by grid blackouts.
Questions: Why is my solar panel under producing?
Answers: Solar panel performance may be hindered for a number of reasons. Most commonly environmental conditions such as indirect sunlight, temperature rise, cloudy sky, and dirt and stain build up on the top glass will cause a reduced power output.
Questions: How should I connect solar panels in my electrical circuit (series vs parallel)
Answers: Solar panels can be connected in series or in parallel to meet your electrical circuit size and power demand. Connecting solar panels in series will have the effect of adding up their operating voltage output, while system current output will be the same as that for one panel. While, connecting solar panels in parallel will have a different effect; individual panels operating current output will add up to be the system output current, while system output voltage will be the same as the output voltage of one solar panel. To meet the optimum power output and system rating for your power system, you can use both parallel and series connections.
Questions: How many solar panels do I need?
Answers: The best way to gauge how many solar panels you need, is to understand and define the power load needed from this system. Power is measured in Watts, and capacity is commonly measured in Watt-hours (multiplying power output in watts by the required number of hours of operation multiplied by a safety factor of 1.5-2). Therefore, it is wise to size your battery bank first based on the minimum required capacity, and accordingly decide how many panels or how much power input is needed.
Questions: What is the Benefits of Using Bifacial Solar Panels?
a.Captures sunlight from both sides
b.More efficient and power than monofacial panels
c.Perform better in overcast weather
d.Install in any direction