Description
No more heavy lifting! Upgrade to Renogy's 12V 170Ah LiFePO4 Battery. Half the weight, twice the power, this battery is perfect for family RV trips, camping trips, off-grid cabins, solar and wind energy systems, UPS battery backups, medical equipment, and more. With 2000 life cycles (80% depth of discharge), this battery is built to last.
Lighter, more compact and fully compatible with our Renogy charge controllers, this 170Ah battery is ideal for your off-grid needs. You can also connect to our Battery Monitor for real-time battery usage monitoring. Don't let the adventure stop here, come explore our wide range of features today!
Please Note:
● Due to its own chemical characteristics, lithium batteries are not allowed to be charged below 0°C. Therefore, if you choose a lithium battery without internal heating function, it is normal that the lithium battery cannot be charged below 0℃ for safety reasons. Therefore, we recommend that you do not discharge the battery for a long time below 0℃, which will possibly lead to over discharge of the battery.
● If the battery's Battery Management System (BMS) is activated and the battery voltage shows 0V, you must use a compatible Li charger to reactivate this battery.
● Make sure to screw in the battery terminals tightly. Loose battery terminals will cause heat build-up and cause damage to the battery.
● DO NOT string these batteries in series. They are made ONLY for wiring in parallel using identical batteries.
If you have any questions regarding this product, please submit a case.
Key Features
4 Times Longer Lifespan
Offering a lifespan of 2000 cycles (roughly 5-year lifespan at daily use) at 80% DOD, Renogy 12V 170Ah LiFePO4 battery could last 4X longer than conventional lead-acid batteries.
Powerful Output
Renogy 12V 170Ah LiFePO4 battery provides a maximum of 2176 Wh power output, which is 2 to 3 times more powerful comparing to most lead-acid batteries in the same size. More power, less battery-draining anxiety.
High Discharging Performance
The battery provides a maximum of 125Ah continuous discharge current to power most home appliances. The superior lithium-iron-phosphate technology ensures stable battery capacity and performance even under extreme temperatures from -4℉ (-20℃) to 140℉ (60℃).
Safe and Reliable
The built-in Battery Management System (BMS) provides over-charge/discharge, over-current, high temperatures, and short-circuiting protection. The fully-sealed housing prevents acid leakage and corrosion and ensures simple maintenance.
50% Lighter
Twice the power of lead-acid batteries at half the weight. This LiFePO4 battery is smaller, lighter, and at the same time delivers more power. The reduced weight makes it easy to carry and install.
Minimum 12V Lithium Battery Bank Sizing
The following are the minimum battery quantities to operate Renogy power inverters. This is ONLY for 12V applications.
| Battery Bank Qty/ Inverter Size | 50Ah | 100Ah | 170Ah |
| --- | --- | --- | --- |
| 700W | 1 | 1 | 1 |
| 1000W | 2 | 1 | 1 |
| 2000W | 4 | 2 | 1 |
| 3000W | 6 | 3 | 2 |
Package Includes
Renogy 12 Volt 170Ah Lithium-Iron Phosphate Battery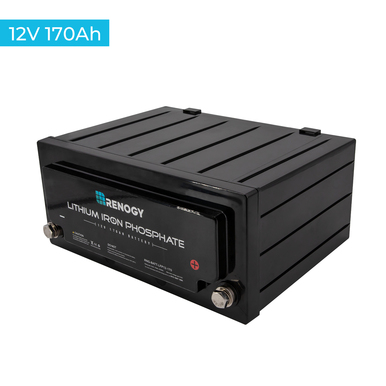 1 x
| Electric Characteristics | |
| --- | --- |
| Nominal Voltage:12.8V | Energy Density:149.1Wh/L |
| Rated Capacity (0.2C):170Ah | Internal Resistance:≤10mΩ |
| Minimal Rated Capacity (0.2C):161.5Ah | Cycle Life (0.2C, 20±5°C):80% DOD 2000 cycles |
| Energy:2176Wh | Specific Energy:103.6Wh/kg |
| Charging Parameters | Discharging Parameters |
| --- | --- |
| Charge Voltage:14.4 ± 0.2V | Maximum Continuous Discharge Current:125A |
| Maximum Charge Current:85A | Discharge Cut-off Voltage:≥10V |
| Charge Cut-off Voltage:14.6V | |
Temperature Parameters Operation Temperature Range
(60±25% R.H.)
Temperature Parameters Storage Temperature Range
(60±25% R.H.)
Charge:32~113℉ / 0~45℃
Less than 1 year:32~77℉ / 0~25℃
Discharge:-4~140℉ / -20~60℃
Less than 3 months:14~95℉ / -10~35℃
Recommended:73.4 ± 9℉ / 23 ± 5℃
| Mechanical Properties | |
| --- | --- |
| Length: 357mm / 14.0 inch | Weight: 22 kg / 48.5 lbs. |
| Width: 155mm / 6.1 inch | Housing Material: ABS+PC |
| Height: 270mm / 10.6 inch | Terminal Model: M12x1.75x16mm |
| Cell Model: IFR26650-3.4Ah | Assembly Method: 4S53P |
| Certifications | |
| ETL Listed [UL-458] | Manufactured in a Certified ISO 9001 Facility |
| CE and RoHS compliant | UKCA |
| FCC Class B Part 15 Compliant | |
Warranty Information
| | |
| --- | --- |
| Material and workmanship warranty | 5-year |
1.Can these batteries be hooked up in parallel and in series ?
You can connect these Renogy 12V 170Ah Lithium batteries in parallel to expand power supply capacity, BUT you can NOT wire them in series. When wiring in parallel, we recommend using identical batteries, same type (Lithium-Iron Phosphate), same capacity (Ah), same voltage (V), same brand (Renogy).
2. Can this battery be combined with a 12V lead acid battery bank ?
We highly recommend NOT stringing lithium batteries to any lead acid batteries. When combining batteries, it's recommended to connect batteries with the same type (Lithium-Iron Phosphate), same capacity (Ah), same voltage (V) from the same brand (Renogy).
3. Does this battery come with terminal bolts? What's the size of the bolt ?
Yes, the battery comes with a pair of M12x1.75x16mm bolts. But please be aware that the battery's M12 terminals are thicker and will not work with any of our battery cable offerings, they require 1/2"" ring terminals for proper connectivity.
4. Are these batteries optimal for a marine environment? On a live aboard sailboat with solar and wind?
These sealed lithium-iron phosphate batteries are perfect for the marine environment. You can use them on your boat or kayak. Additionally, they can be run on various off-grid, emergency, and energy storage systems, including RVs, vans, cabins, solar/wind energy systems, UPS battery backups, telecommunication systems, medical equipment, and more.
5. What's the operating temperature of this 170Ah battery? Can I charge it below freezing ?
The operating temperature for discharging is -4℉~140℉ / -20℃~60℃. The operating temperature range for charging is 32℉~113℉ / 0℃~45℃. For optimal performance, we recommend using this battery at 73.4 ± 9℉ / 23 ± 5℃.
6. Can I use any 12V battery charger to charge this battery or does it have to be a specialized lithium charger ?
You need to use a battery charger compatible with Lithium-Iron Phosphate deep cycle batteries to charge this battery, or it will be damaged. Renogy's 12V DC-DC and AC-DC battery chargers all support charging Lithium batteries, you can visit our website for more information.
7. What should I do when I receive the battery?
When you receive your battery, please be aware that it may have a low State of Charge (SOC) due to the transportation and storage process. To ensure its optimal performance, we recommend charging the battery right away to avoid over-discharge. If you plan to store the battery for an extended period without usage, we suggest charging it to a SOC of 30% to 50% and performing maintenance every three months. These steps will help maintain its functionality and performance over time.