Description
The Renogy BT-1 Bluetooth module is a great addition to any compatible Renogy solar system. Capable of connecting to select Renogy charge controllers through the RS232 port, the BT-1 is used to pair charge controllers with Renogy's remote monitoring app, Renogy BT. Available for smartphones and tablets, Renogy BT allows for remote monitoring and parameter changes directly via the app. Take the guesswork out of system monitoring by using the BT-1 to view real-time performance without having to leave your seat.
At the moment, the Renogy BT-1 Bluetooth module is only compatible with the 30A Wanderer-Li, 30A Adventurer-Li, Rover-Li, and newer versions of the 20A and 40A Rover Charge Controller. Please note that the Bluetooth app, Renogy BT, is optimized for Rover Charge Controllers from version 010407 and onwards (i.e. 010408). The app is not fully compatible with older versions of the Rover Charge Controller such as version 010403 or 010400.
If you have any questions regarding this product, please email supportca@renogy.com.
Key Features
Wirelessly monitor and control compatible solar charge controllers via Bluetooth
Connect to user-friendly smartphone app, Renogy BT, to keep track of your system
Embedded exclusive Bluetooth chip with high efficiency and low energy consumption
With Bluetooth 4.0 and BLE technology, it features fast and uninterrupted communication
Powered directly through RJ12 communication port
Signal range is up to 50 ft
Download Links
Package Includes
Renogy BT-1 Bluetooth module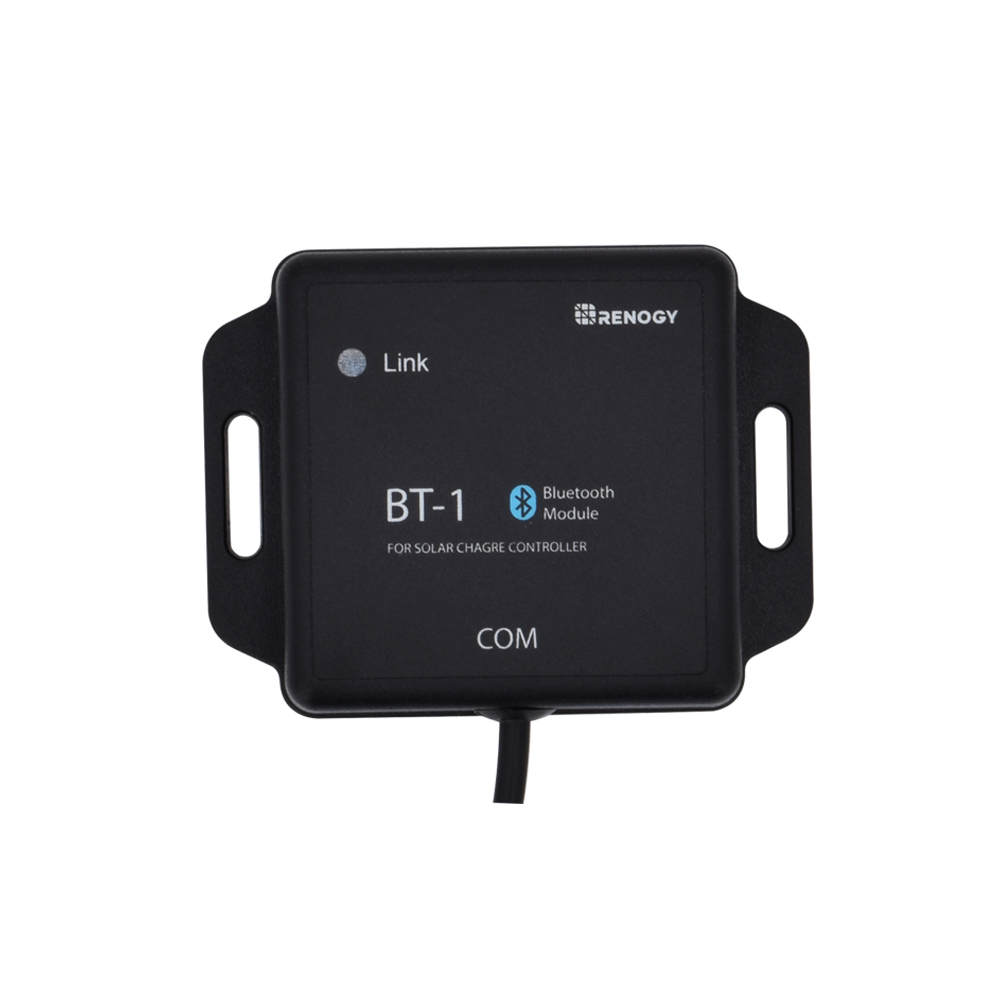 1 x
| Compatible Models | |
| --- | --- |
| Compatible Models: All Renogy Controllers with RJ12 port | Communication Portocol: RS232 |
| Port Type: RJ12 | |
| Specifications | |
| --- | --- |
| Model: BT-1 | Input Voltage: 5V-12V |
| Standby Power Consumption: 0.04W | Operating Power Consumption: 0.05W |
| Communication Range: ≤15m | Serial Baud Rate: Fixed Baud Rate 9600bps |
| Cable Length: 5.00 m (16.4 ft) | Dimensions: 2.6 X 2.01 X 0.61 In |
| Installation Dimensions: 57.5, φ3.2mm (2.26, φ0.13in) | Operation Temperature: -20°C to 75°C (-4°F to 167°F) |
| Protection Grade: IP67 | Weight: 120 g (4.2oz) |
Warranty Information
| | |
| --- | --- |
| Accessories | 1-year material warranty |
Certification