Description
The Renogy Monitoring Screen for Smart Lithium Battery Series is a high precision meter designed for Smart Lithium Iron Phosphate Batteries in off-grid energy storage systems. Instead of measuring the current flowing in/out of the battery bank using a shunt, it can communicate directly with the battery management system (BMS) and obtain more accurate state of charge (SoC) readings compared to traditional battery monitors. Other battery bank information including voltage, current, capacity, remaining time, warning code, and number of paralleled batteries are also available on the monitoring screen to help users avoid abnormal conditions and extend the lifetime of the battery bank.
Note: The monitoring screen is totally compatible with the Renogy Smart Lithium Iron Phosphate Batteries purchased on renogy.com. after April 15th 2020(RBT100LFP12S-CA). If the battery bank connected to the monitoring screen contains one or more Smart Lithium Iron Phosphate Batteries purchase on renogy.com before April 15th 2020, there is a small chance of compatibility issues. In such cases, please contact us for help.
If you have any questions regarding this product; please submit a case.
Key Features
Plug and Play
Simply connects the monitoring screen to the battery bank using an RJ45 communication cable for real-time monitoring.
Accurate Readings
Obtains battery bank status directly from the battery management system for precise tracking and prediction.
Comprehensive Protection
Displays straightforward warning codes for the quick recognition of potential abnormal conditions and improper operation.
Easy Operation
Shows detailed battery bank information at the push of a button without the need of system configuration and calibration.
Package Includes
MONITORING SCREEN FOR SMART LITHIUM BATTERY SERIES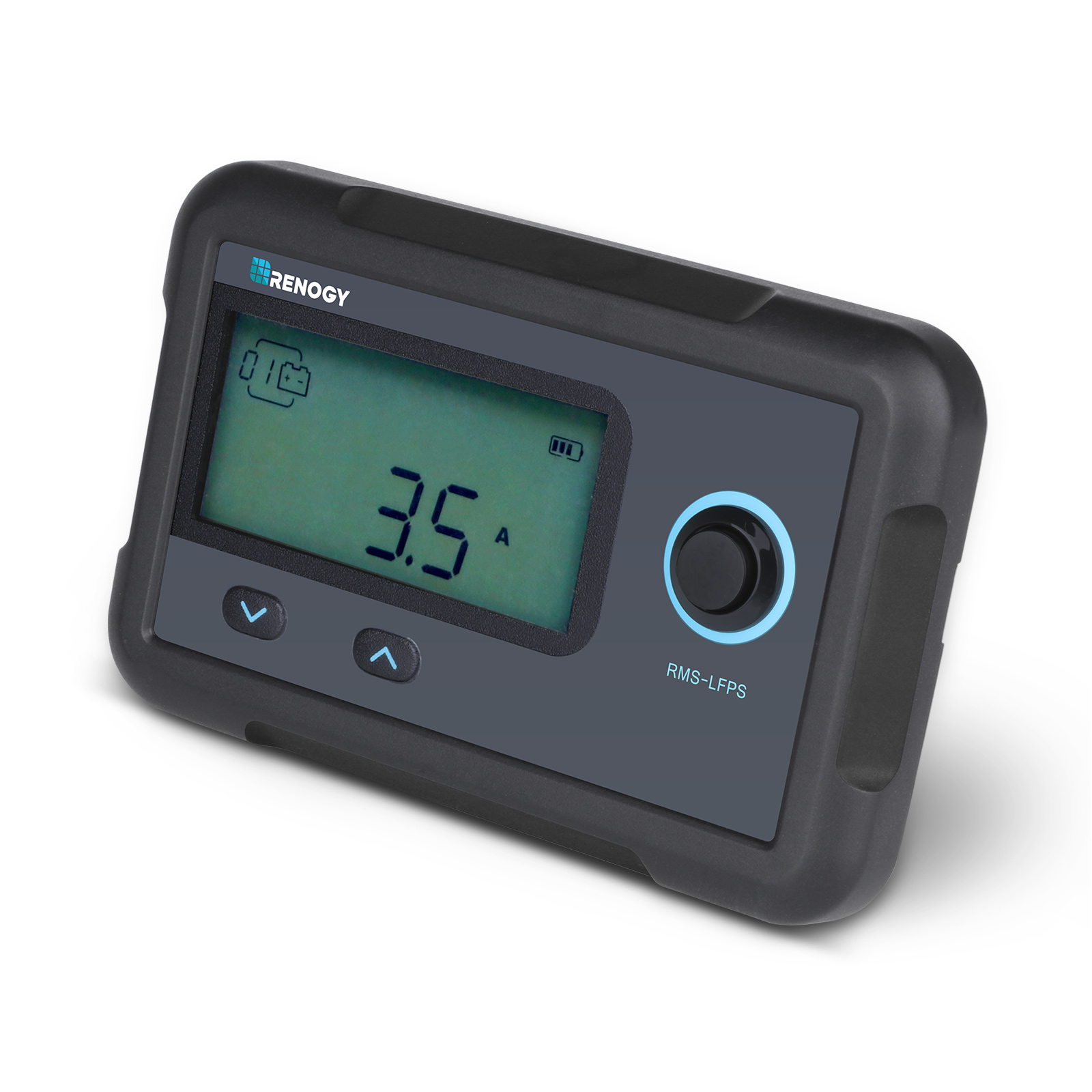 1 x
| ELECTRICAL SPECIFICATIONS | MECHANICAL SPECIFICATIONS |
| --- | --- |
| Supply Voltage: 12VDC | Communication Port: RJ45 (RS485 Protocol) |
| Supply Current: 30mA | Display: Backlit LCD |
| Power Consumption: <1W | User Interface: 2 Front Panel Menu Buttons, 1 Power Button |
| Operating Temperature Range: -4°F~113°F / -20°C~45°C | Mounting System: Wall Mount |
| Voltage Accuracy: ±0.1V | Dimension: 2.76 x 4.33 x 1.25 inch / 70 x 110 x 31.8 mm |
| Current Accuracy: ±0.1A | Weight: 0.14 lbs / 62 g |

Warranty Information
| | |
| --- | --- |
| Accessories | 1-year material warranty |