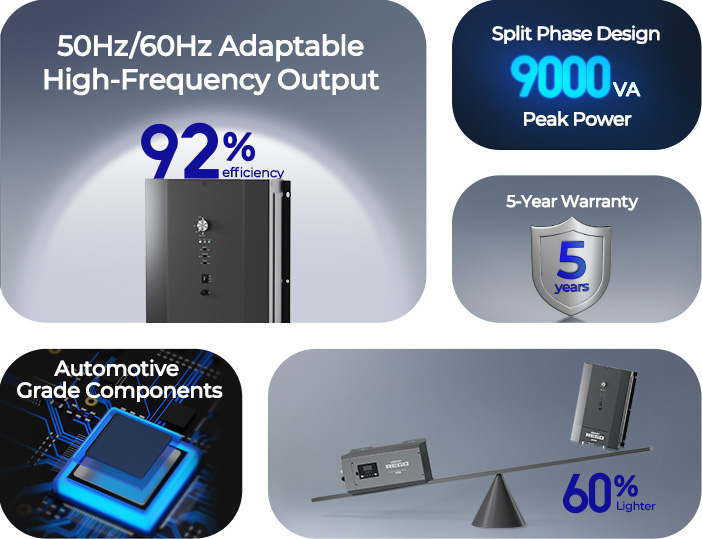 3000W 12V Pure Sine Wave High Frequency Inverter Charger
The only compact and noiseless high frequency split phase inverter charger.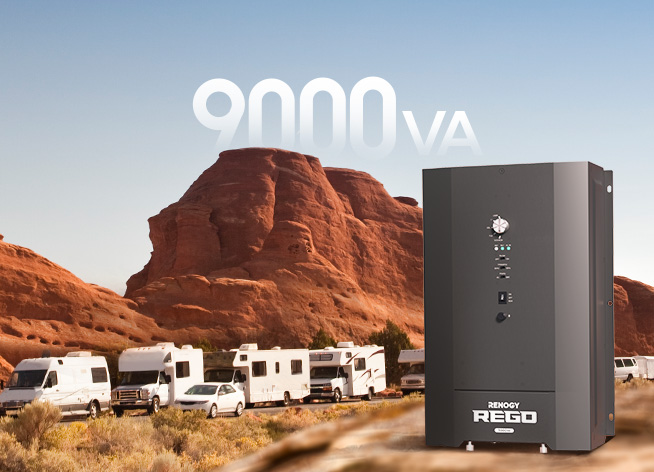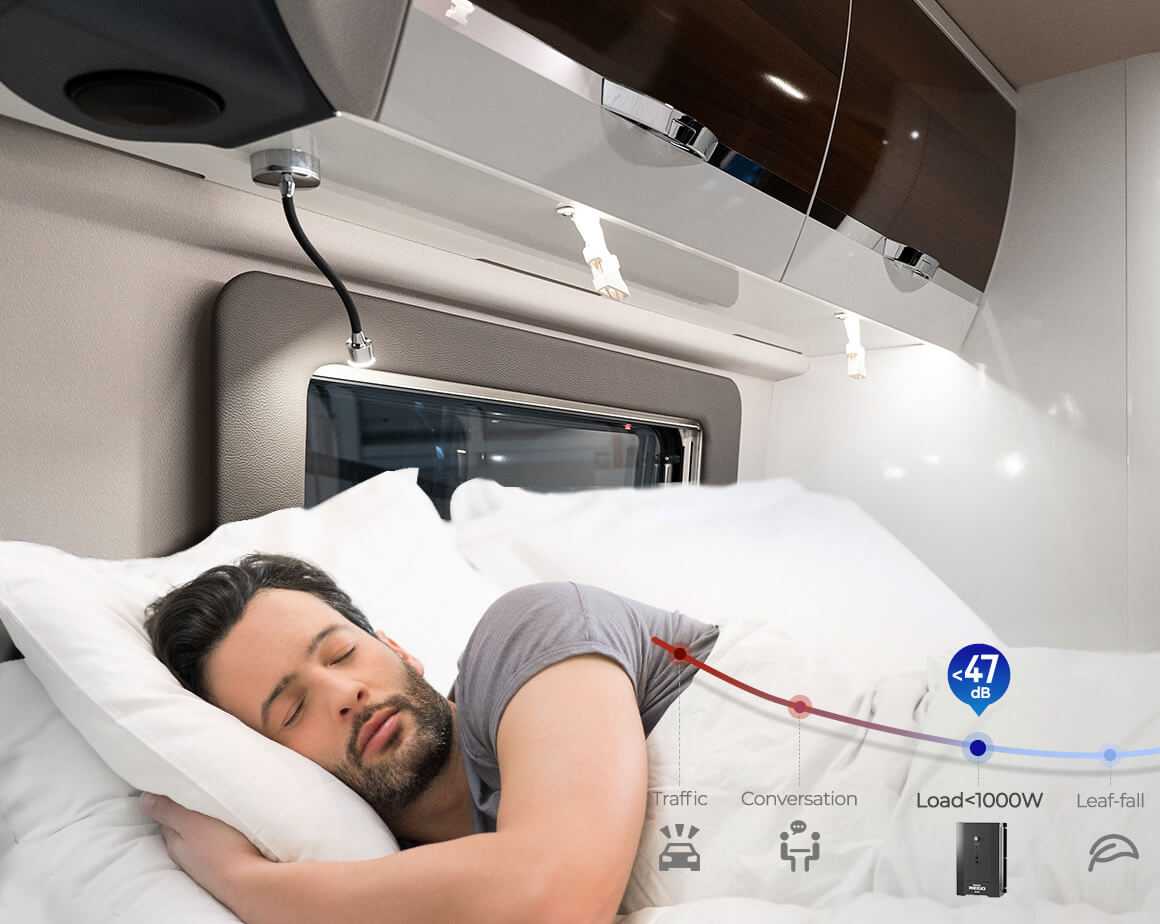 Operates with Remarkably Low Noise
Rediscover the serenity of a bedroom-caliber quiet environment with Renogy's high-frequency inverter, delivering peaceful nights and uninterrupted slumber.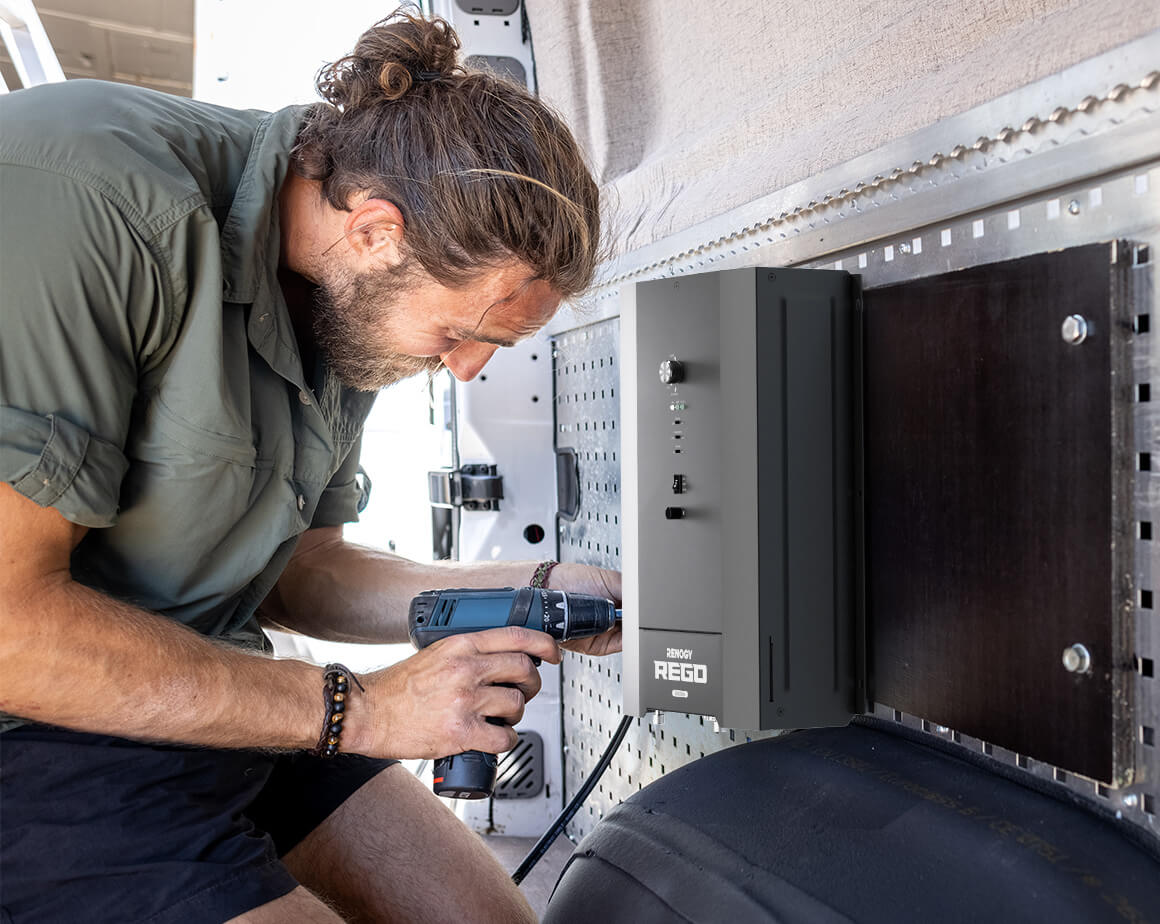 Space-Saving Design for Enhanced User Convenience
The all-in-one design streamlines installation, minimizes equipment space, and optimizes user convenience.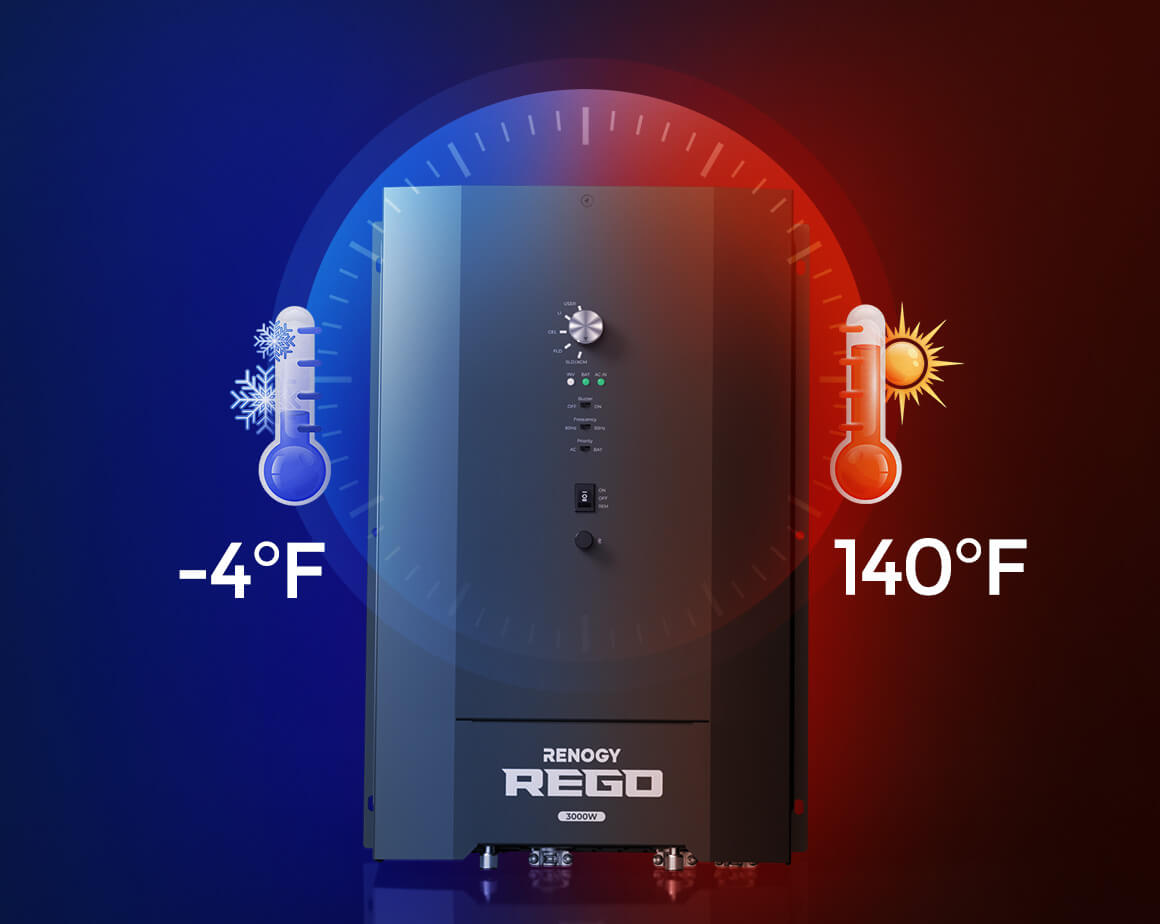 High Environmental Adaptability
Maintaining peak performance without frequency reduction at full load up to 113°F, while others typically start reducing at around 104°F.
Enhanced Lithium Battery Activation and Heating Capability
Experience optimized battery performance and longevity with advanced lithium battery activation and heating functionality, ensuring reliable operation in diverse environments.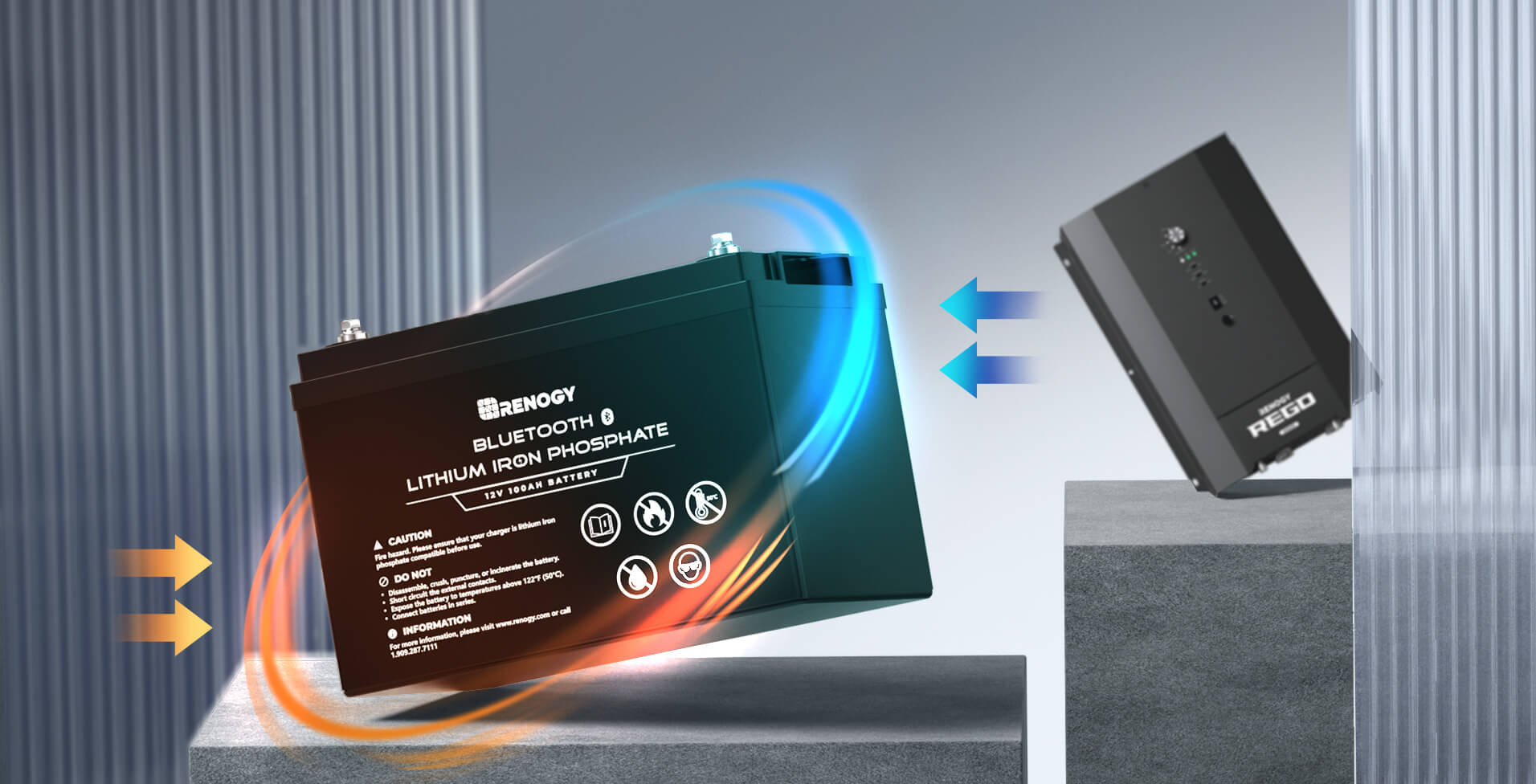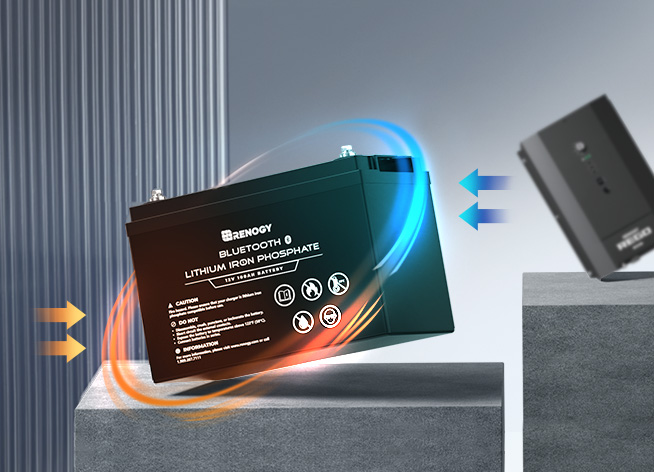 Battery Temperature Sensor
Smart temperature control guarantees consistent and effective performance of lithium batteries across diverse weather conditions.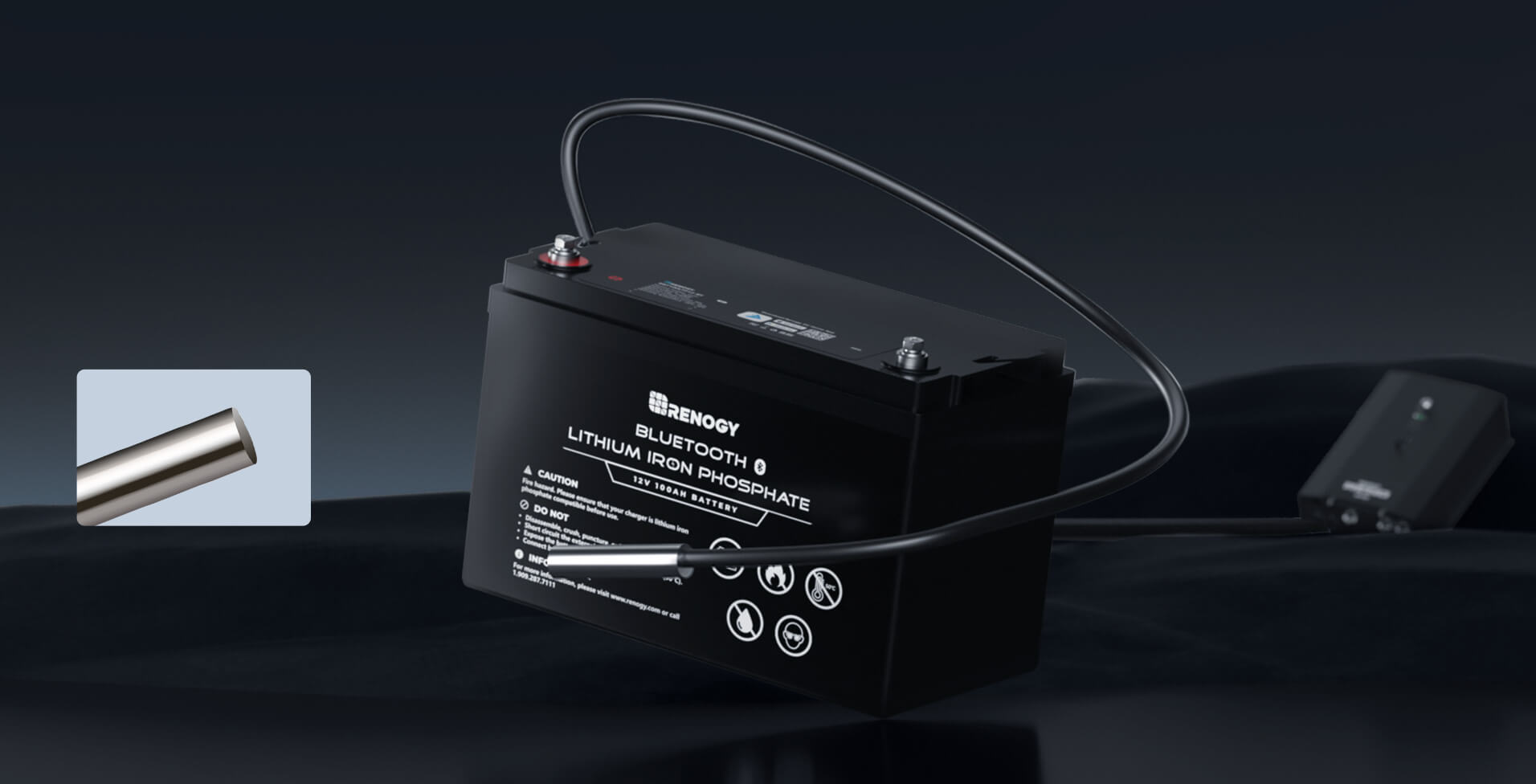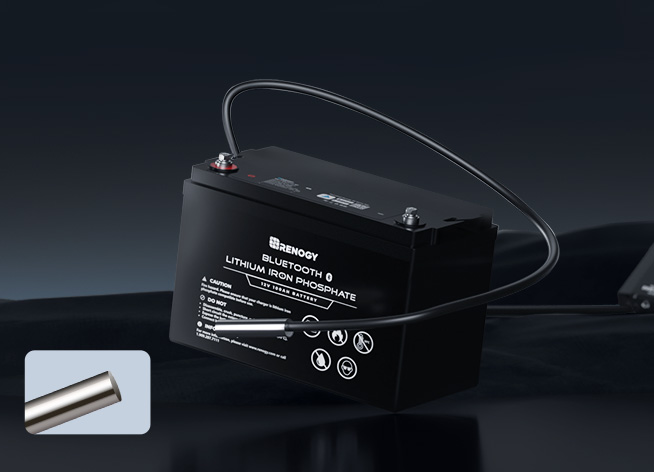 Swift Adaptation to Load Changes
Superior Safety
Resolves RV grounding concerns by addressing simultaneous neutral grounding of RV and external AC power, ensuring electrical system safety, and minimizing the risk of electric shock.
Clearer Signals with Higher Frequency
Lower electromagnetic disturbance for better performance of onboard electronics and wireless communication.
Learn more
Connect with Renogy customers.
Go to Power Plus Community
Still have questions?
Ask our specialist
Renogy 3000W 12V Pure Sine Wave HF Inverter Charger

Inverter
Continuous Power
3000W
AC Output Voltage Range
120V± 3%
Surge Power(100ms)
9000VA
Output Frequency (Nominal)
50/60 Hz ± 0.1%
Surge Power(5 seconds)
4500VA
Output Waveform
Pure Sine Wave
Surge Power (10 seconds)
3600W
Efficiency
>91%
THD
<3%
DC Input Voltage
DC12V
DC Input Voltage Range
9~17Vdc(Full load 11V to 15.8V DC)
No Load Current Draw
Normal: <20W; Power Saving: <10W
Charger Specifications
Transferswitch Specifications
Output Current
150A @25°C, 5A to 150A adjustable,
5A intervals, default 150A
Transfer Time

1~ 10ms

Nominal Input Voltage
Split phase: 180-280 VAC
Single phase: 90-140 VAC
Transfer Rating
50A Maximum Bypass @120V AC
Input Wave Form
Sine Wave (Utility or Generator)

Input Frenquency Range
50/60Hz,±5Hz

General Specification
Battery Types
GEL, AGM, SLA, FLD, CAL, LI, USER
Noise
<50dB
Operating Temperature
Full load: -4°F to 113°F / -20°C to 45°C
Down load: 113°F to 140°F / 45°C to 60°C
Storage Temperature
-40 ~ 70°C / -40 ~ 158°F
Weight
22.7lbs/10.3Kg
Humidity
0% ~ 95%
Certifications
Warranty
Safety
UL-485 and CSA-C22.2 No 107.1
Inverters:5 years
EMC certification
FCC Prat15 Class B
Accessoreis:1 years
1.What are the differences between this REGO 3000W inverter (RIV1230RCH-SPS) and the previous REGO 3000W inverter (RIV1230RCL-1SS)?
The main difference is that the REGO 3000W inverter (RIV1230RCH-SPS) is high-frequency, while the REGO 3000W inverter (RIV1230RCL-1SS) is standard frequency. The RIV1230RCH-SPS inverter also supports North American 120/240VAC split-phase input and boasts a higher load capacity.
2. Is this inverter compatible with DC Home or Renogy One M1/Core?
Absolutely, this inverter is compatible with the DC Home app and seamlessly connects to the Renogy One M1/Core. Moreover, it supports RV-C communication protocol.
3. When connected to shore power, does the inverter's self-consumption draw from the shore power or the battery?
In UPS mode, the inverter's self-consumption is provided by the grid. Conversely, in battery priority mode, it is drawn from the battery.
4. In bypass mode, is the load capacity still restricted by the rated output power?
When the inverter is supplied with 120VAC input, the maximum output in bypass mode is 6000W, with a rated current of 50A.
5. Is it possible to control the inverter and modify its settings through the app?
You can activate the inverter's ECO mode via the app, though powering it off isn't available. You can also customize the charging current and set battery protection parameters using the app.
More questions about your off-grid power system? Learn more from

Renogy Learning Center

!