Unmatched durability against hurricanes and hailstorms.
Delivering exceptional energy yield in partial shading.
Seamless integration with diverse roof shapes and types.
Effortless adhesive mounting eliminates wear and tear.
Minimizing roof stress for enhanced stability.
Renogy Ultra-Flex 150W CIGS Solar Panel
Unmatched durability meets exceptional anti-shading ability.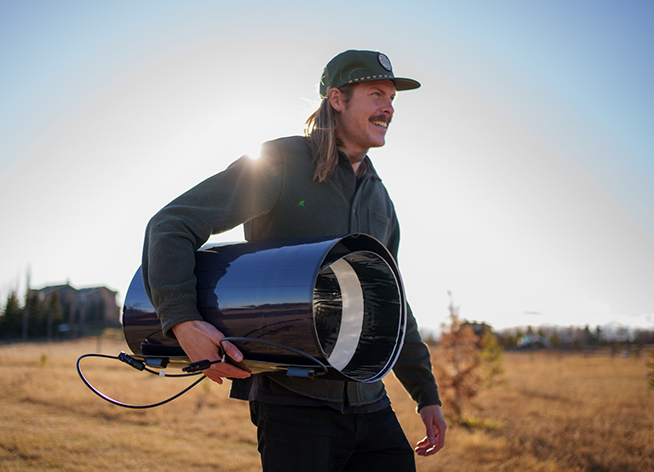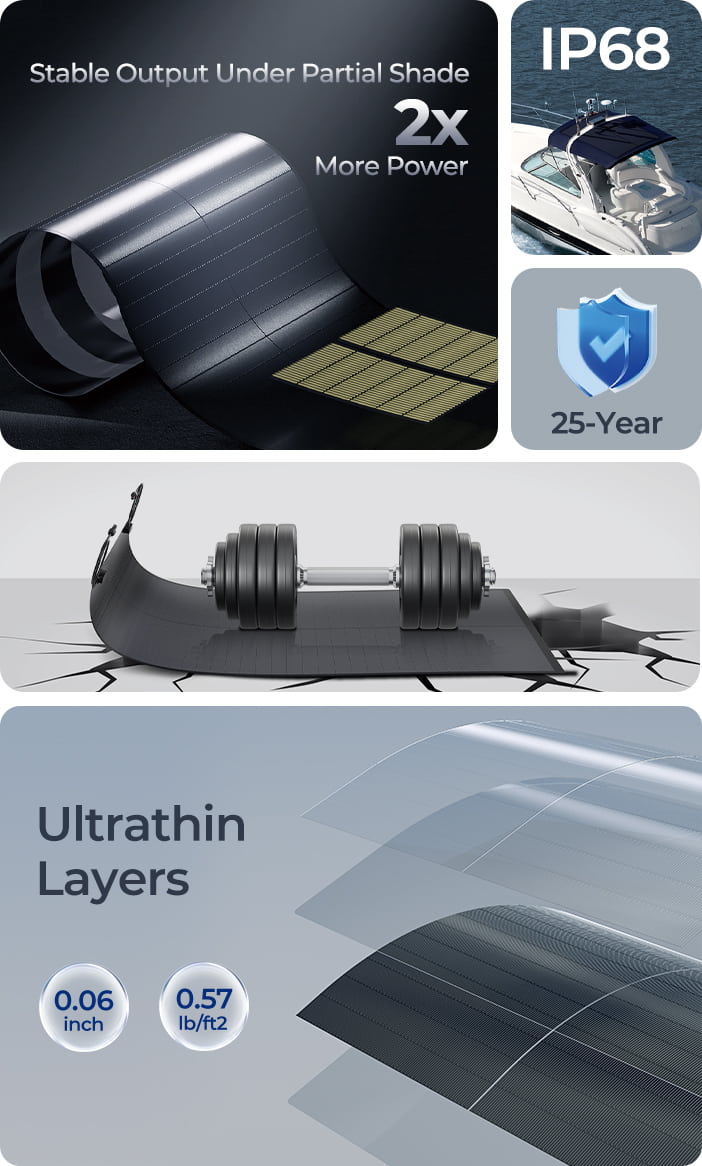 Twice the Output in Partial Shading
Bypass diodes integrated across all solar cells, ensuring stable current even in shaded conditions.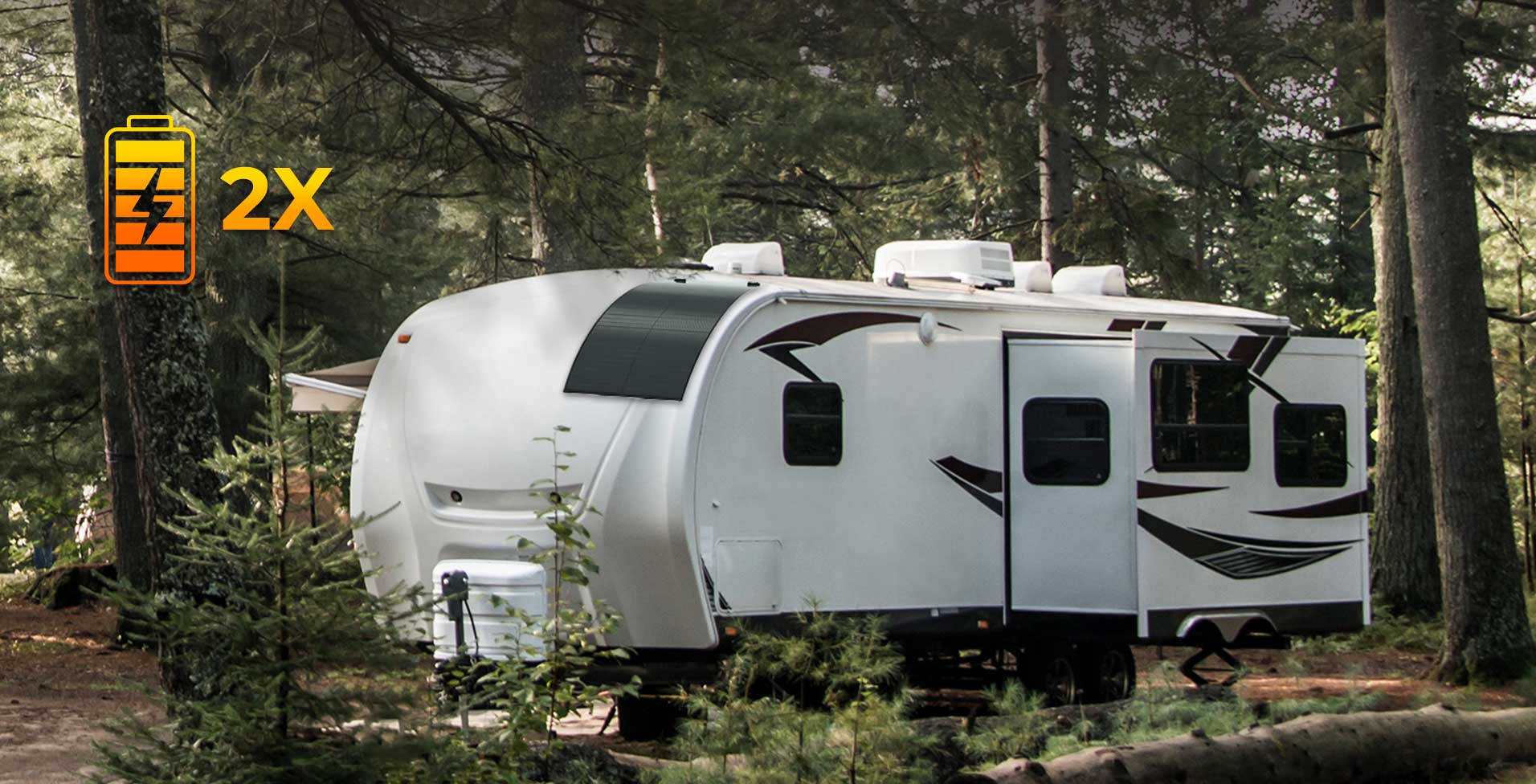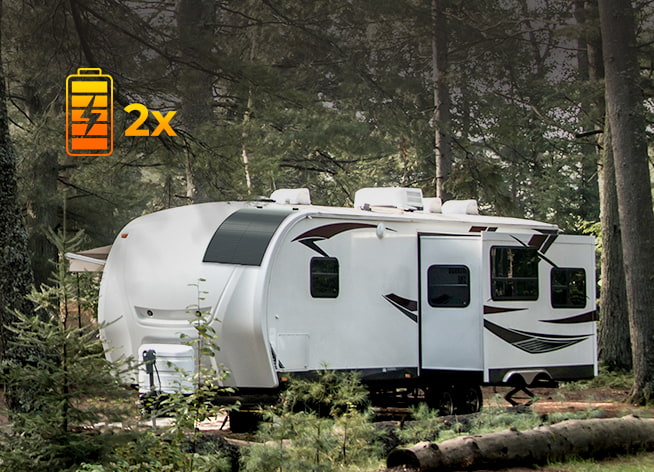 Optimal Instant Charging
Hang your solar panel wherever you prefer for convenient, on-the-go charging while maximizing sunlight absorption.
Preserve Your Roof Integrity
By eliminating the need for drilling holes in the roof, you can preserve the structural integrity and maintain a sleek and aesthetically clean look for your RV.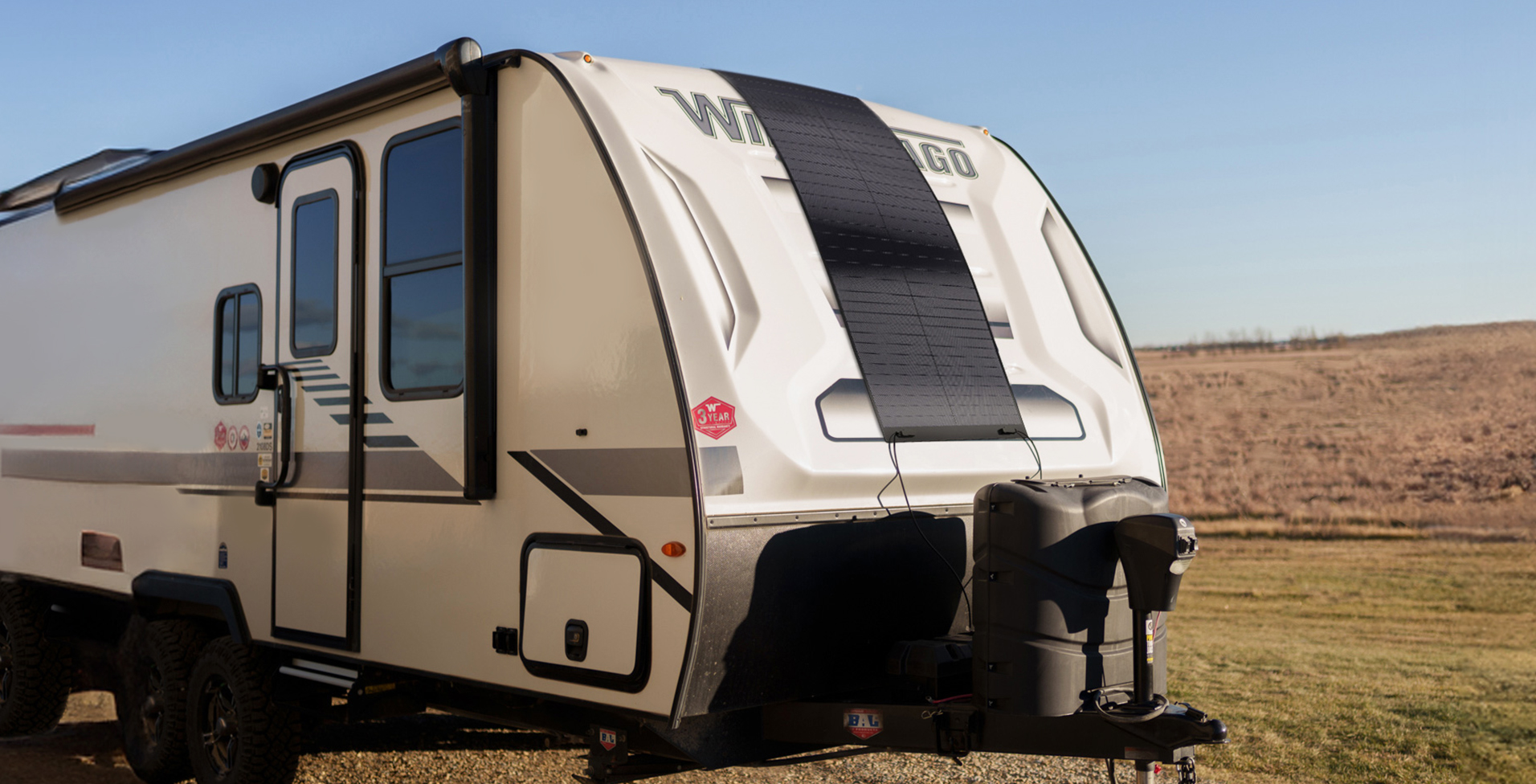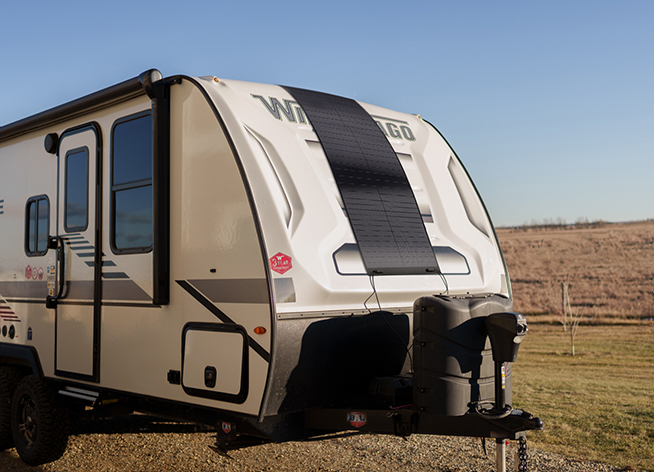 Minimize Roof Stress
Ultra lightweight design reduces pressure on the RV roof and enhancing stability during travel.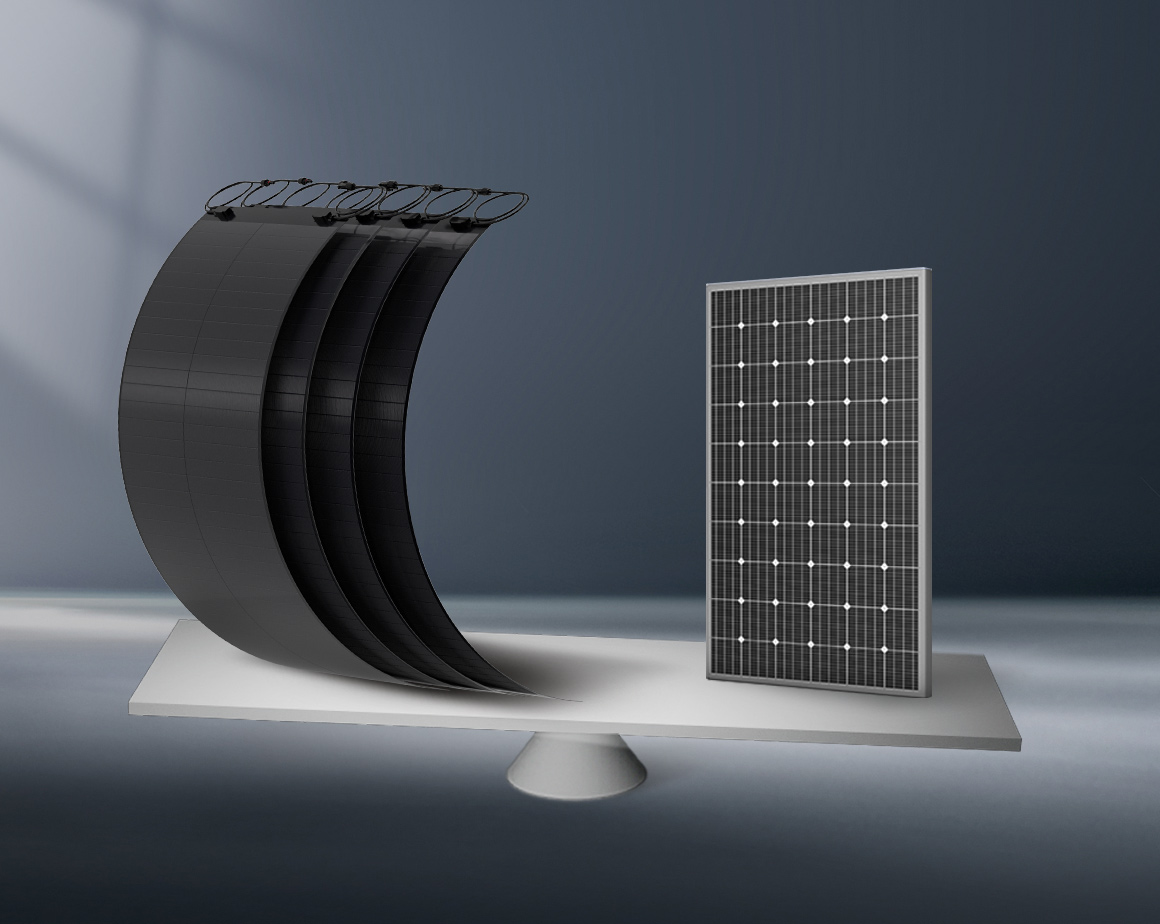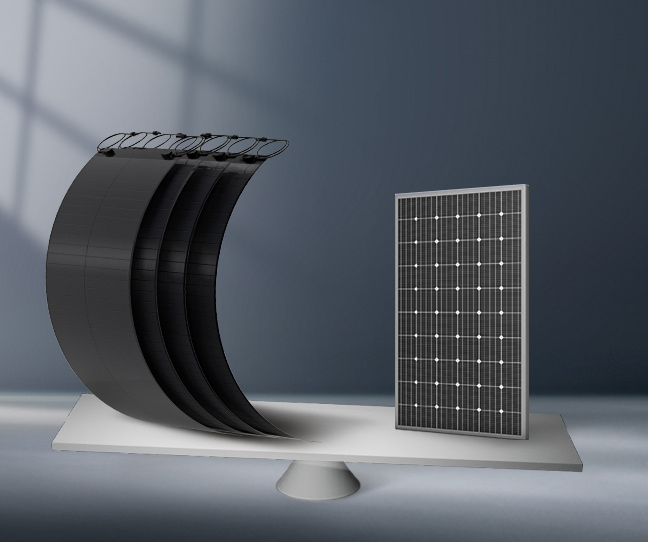 Times Lighter than Rigid Solar Panels
CIGS panels are significantly lighter than conventional rigid solar panels, which means they impose less pressure on the RV roof, enhance driving stability, and reduce strain during travel.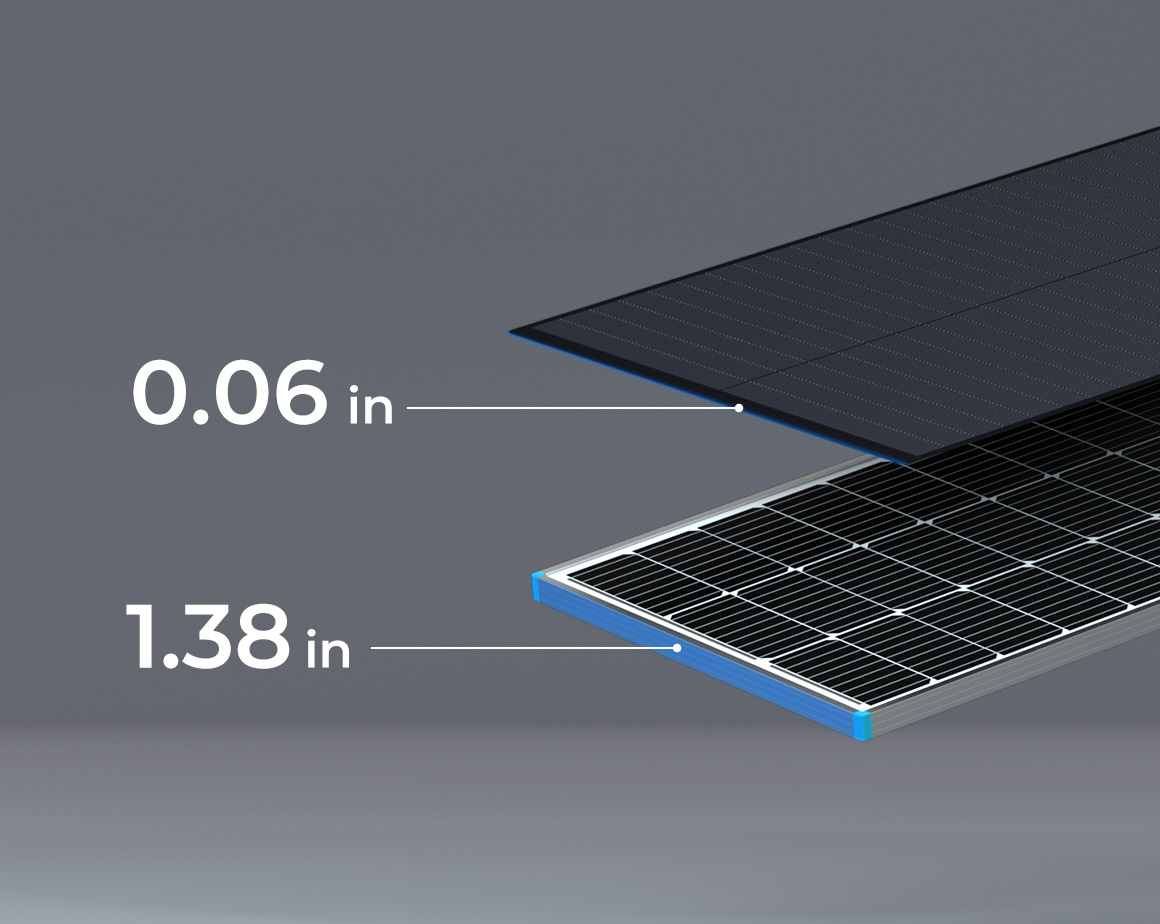 23 Times Thinner than Rigid Solar Panels
This remarkable reduction in thickness offers greater flexibility in installation options and a sleeker, more integrated appearance, providing a streamlined and aesthetically pleasing addition to your setup.
Effortless Installation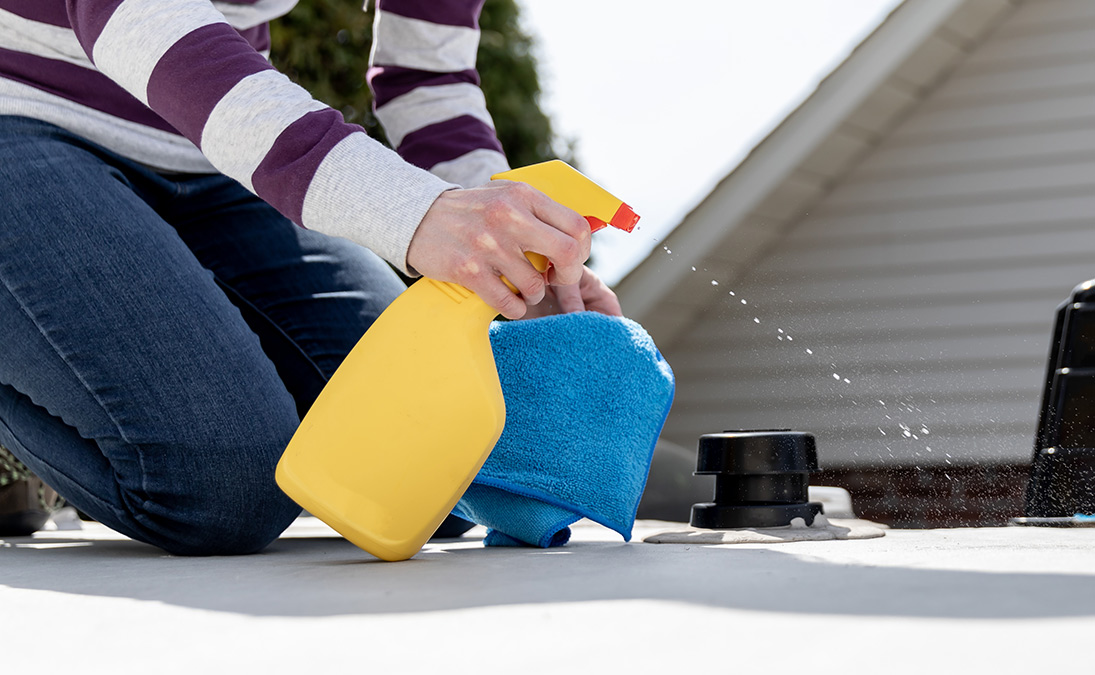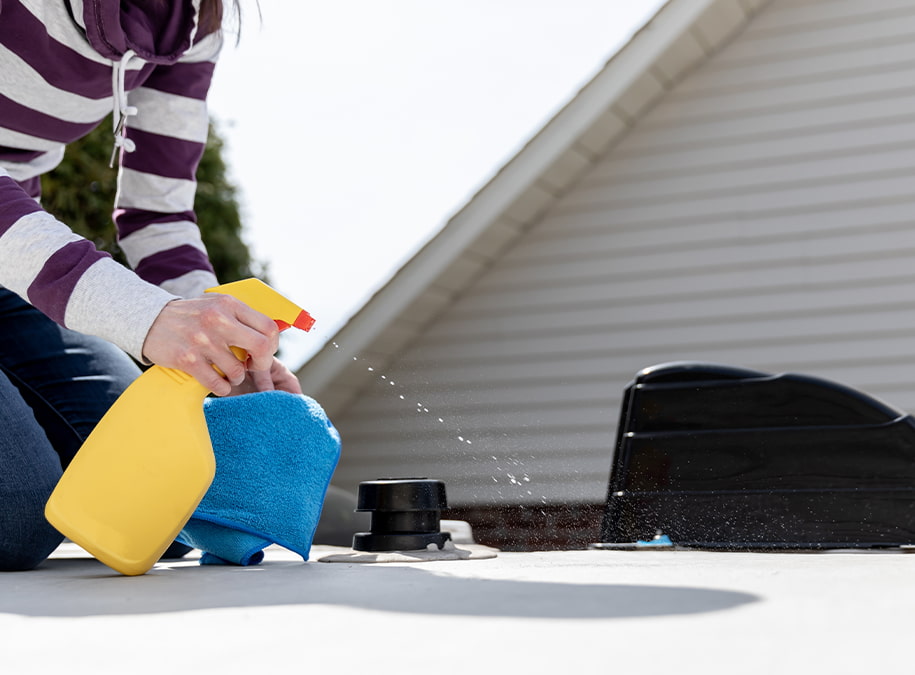 Step 1
Clean and dry the installation area.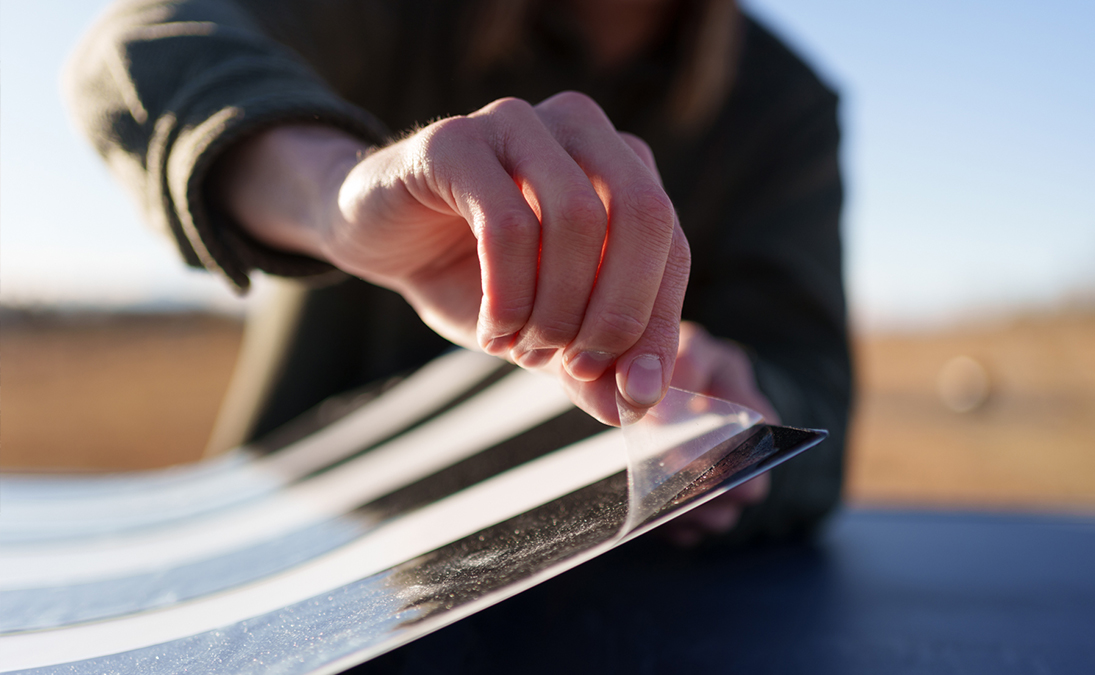 Step 2
Peel off the adhesive tape and attach the solar panel.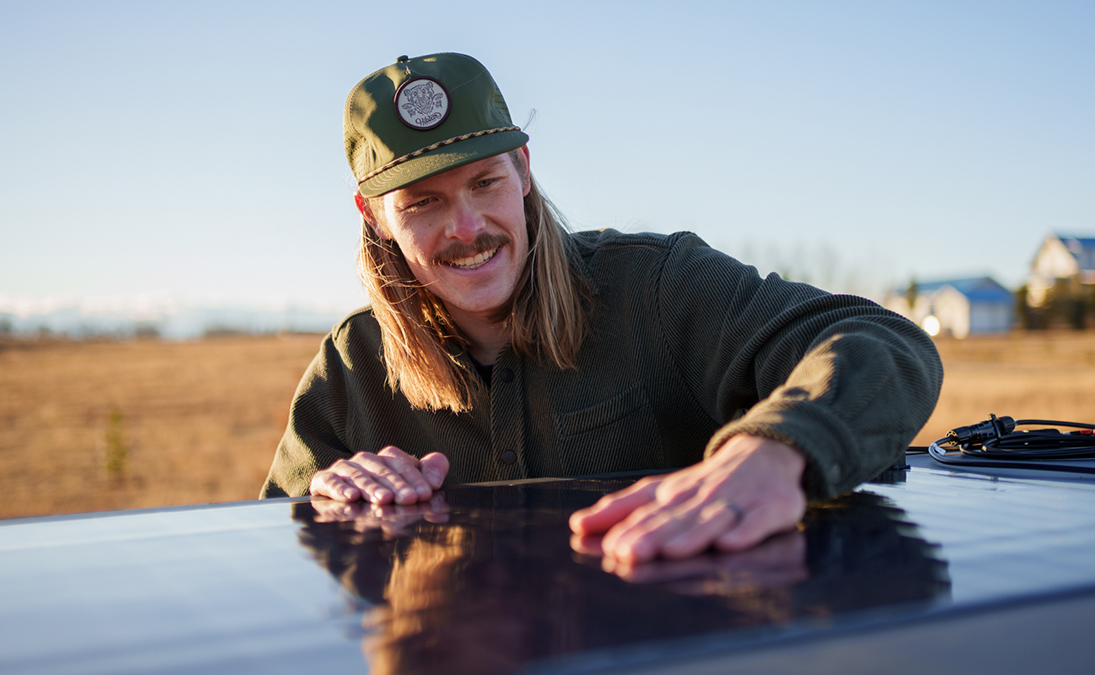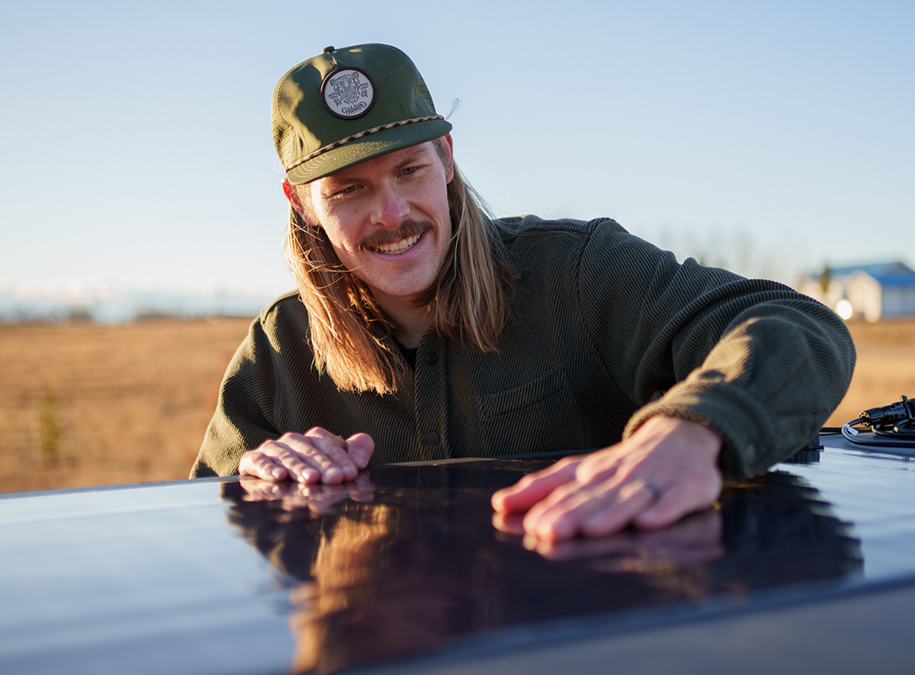 Step 3
Allow it to sit undisturbed for 24 hours.
Learn more
Connect with Renogy customers.
Go to Power Plus Community
Still have questions?
Ask our specialist
Package Includes
Charge Controller Only Option
1 x Renogy 150W CIGS Solar Panel
1. What do I need to complete my off-grid solar power system ?
A solar panel has to be connected a charge controller to regulate current, and a battery to store the electrical power. You will need adapter kit cables to wire the solar panel(s) and charge controller, and tray cables connecting the charge controller to a deep-cycle battery.
2. What does off-grid and on-grid mean ?
On-grid simply means solar power equipment (array or solar panel) is connected to the electrical grid, while off-grid refers to systems that are not connected to the grid and therefore store the generated power for later use. Off-grid systems are not affected by grid blackouts.
3. Why is my solar panel under producing ?
Solar panel performance may be hindered for a number of reasons. Most commonly environmental conditions such as indirect sunlight, temperature rise, cloudy sky, and dirt and stain build up on the top glass will cause a reduced power output.
4. How should I connect solar panels in my electrical circuit (series vs parallel)
Solar panels can be connected in series or in parallel to meet your electrical circuit size and power demand. Connecting solar panels in series will have the effect of adding up their operating voltage output, while system current output will be the same as that for one panel. While, connecting solar panels in parallel will have a different effect; individual panels operating current output will add up to be the system output current, while system output voltage will be the same as the output voltage of one solar panel. To meet the optimum power output and system rating for your power system, you can use both parallel and series connections.
5. How many solar panels do I need ?
The best way to gauge how many solar panels you need, is to understand and define the power load needed from this system. Power is measured in Watts, and capacity is commonly measured in Watt-hours (multiplying power output in watts by the required number of hours of operation multiplied by a safety factor of 1.5-2). Therefore, it is wise to size your battery bank first based on the minimum required capacity, and accordingly decide how many panels or how much power input is needed.
6. What does the 12V/24V in the product title of the solar panel mean? Why is it different from the value on the label/specification sheet of the solar panel?
The 12V/24V in product titles (ex. 150W 12V CIGS Solar panel) does not refer to the actual voltage (Voc or Vmp) of the solar panels, but rather to the voltage of the solar system or energy storage system to which the panel is best suited. The voltage of the solar panel must be higher than the solar system voltage.
7. Why is the release film on the backing of my module partially peeling off?
It is normal for the adhesive backed release film to be partially peeling off d by curling stress, which will not affect the normal installation and use of the product.
8. Why is there a color difference between the cells of my modules?
A small color difference in the cell is a normal phenomenon. The color of CIGS cell depends on the thickness of its coating, and the extremely small difference in thickness will cause a difference in the color of the cell, but it will not affect the power generation work of the cell.