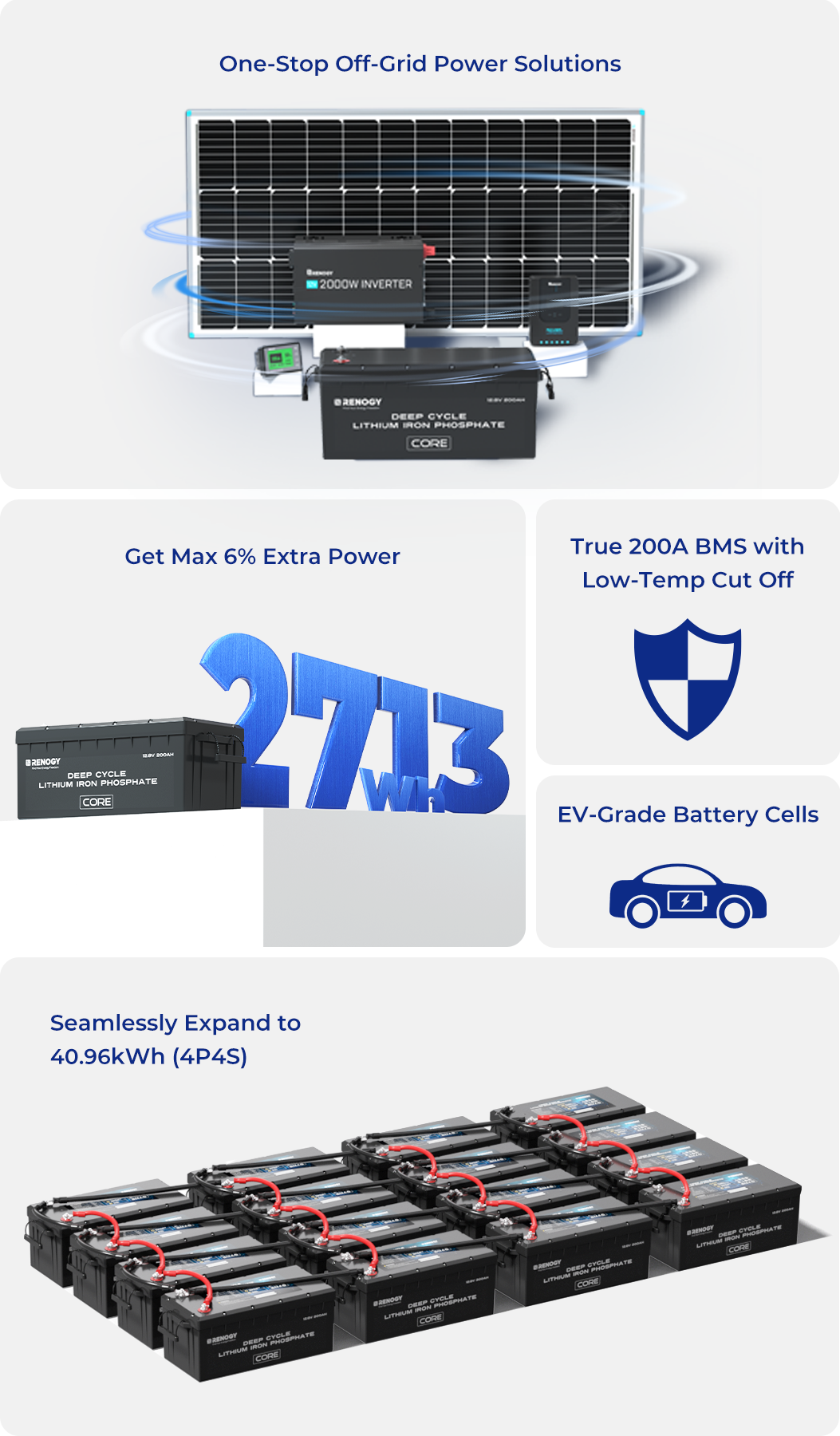 Get Your System Built up
Easier & Faster in Just One Go
No more worries about compatibility between different components.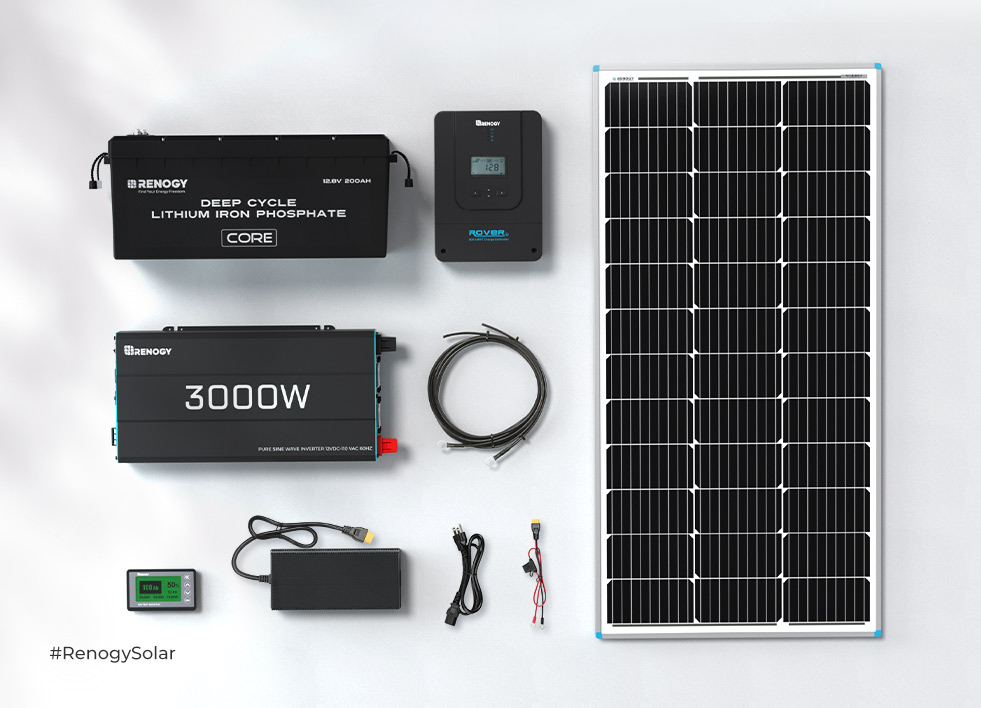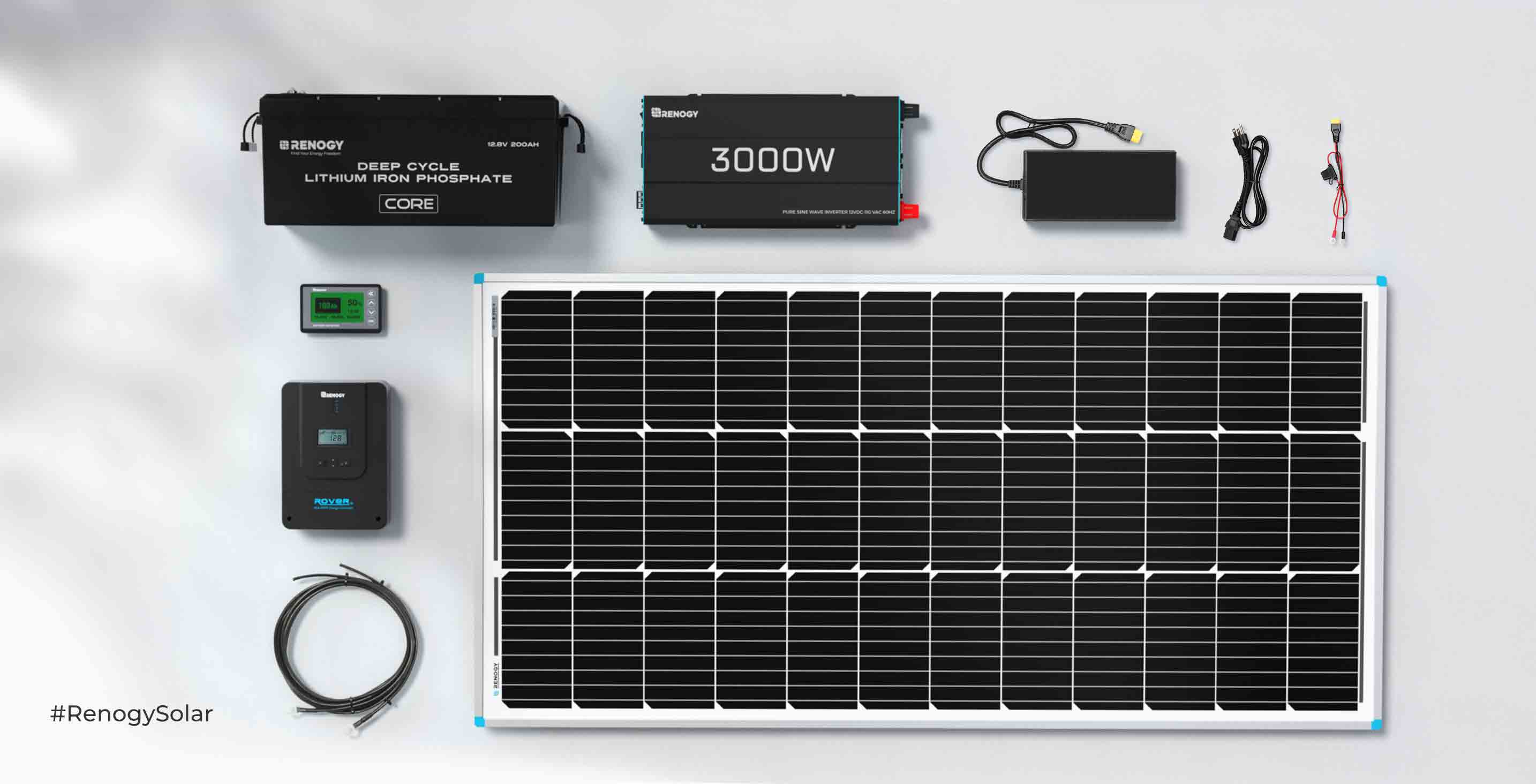 Connect in Series
Now, you can wire 12V 200Ah Core Series Batteries in series to build a 24V, 36V, or even 48V system in your RV.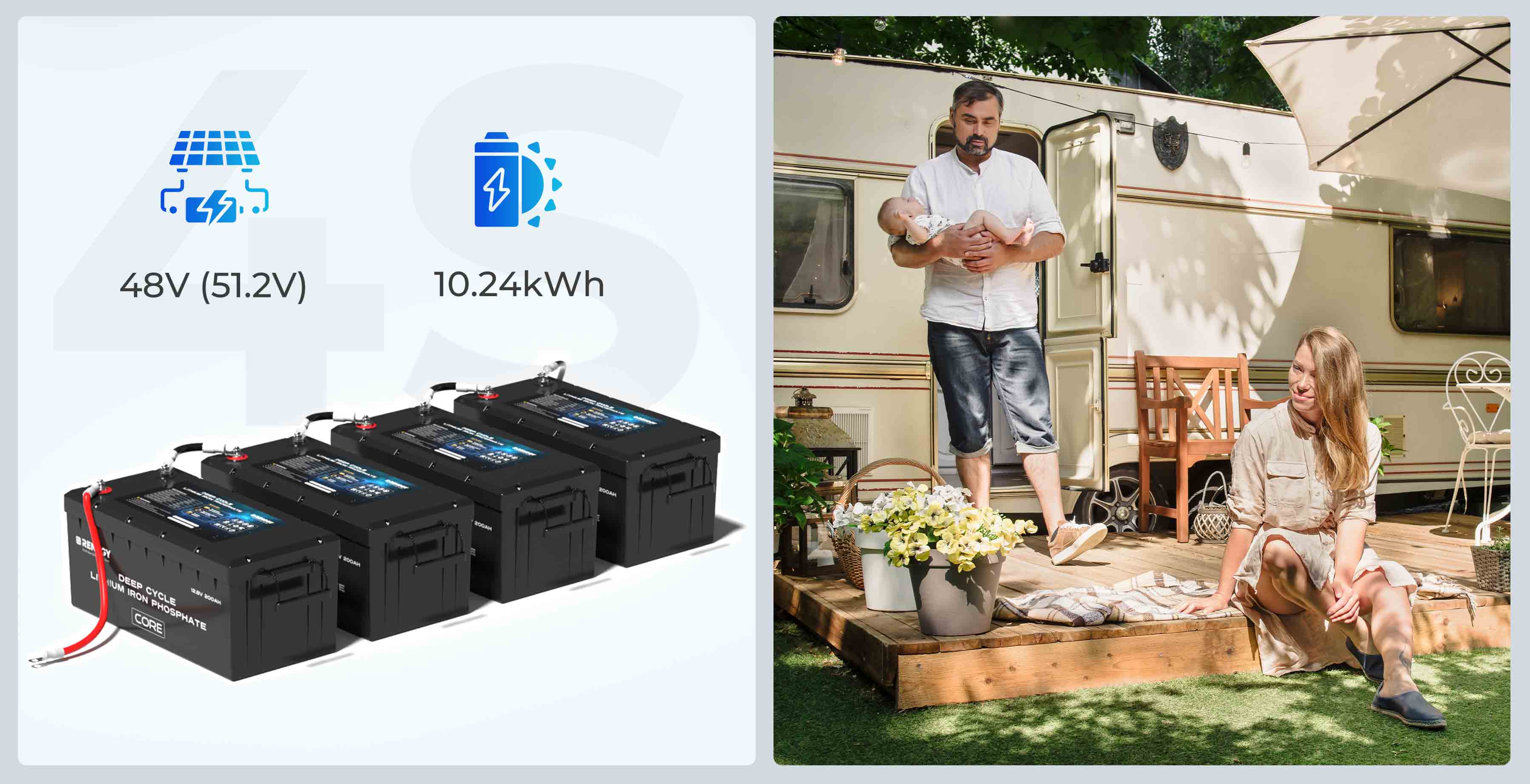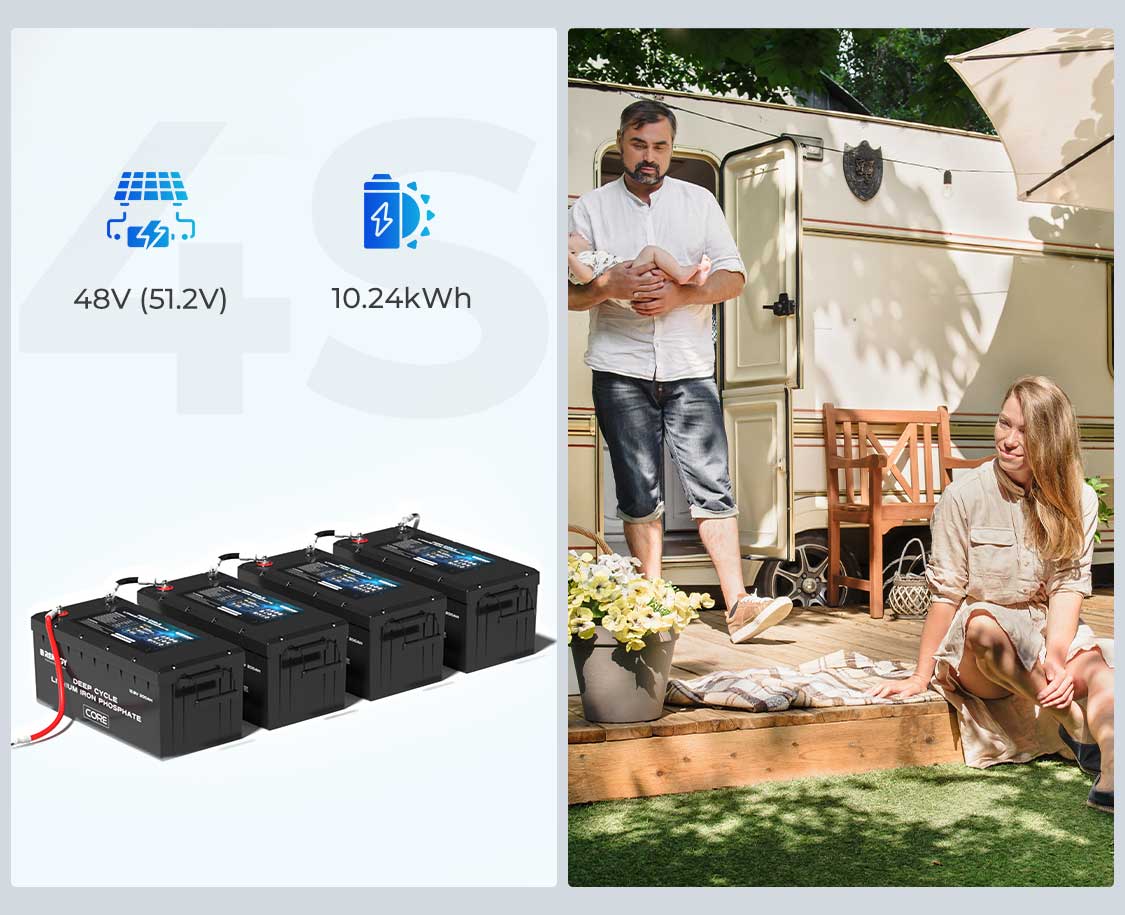 Connect in Parallel
Extend the runtime of your off-grid power system by connecting our batteries in parallel. You can get up to 20.48kWh of power with 8 Renogy 12V 200Ah Core Series Batteries.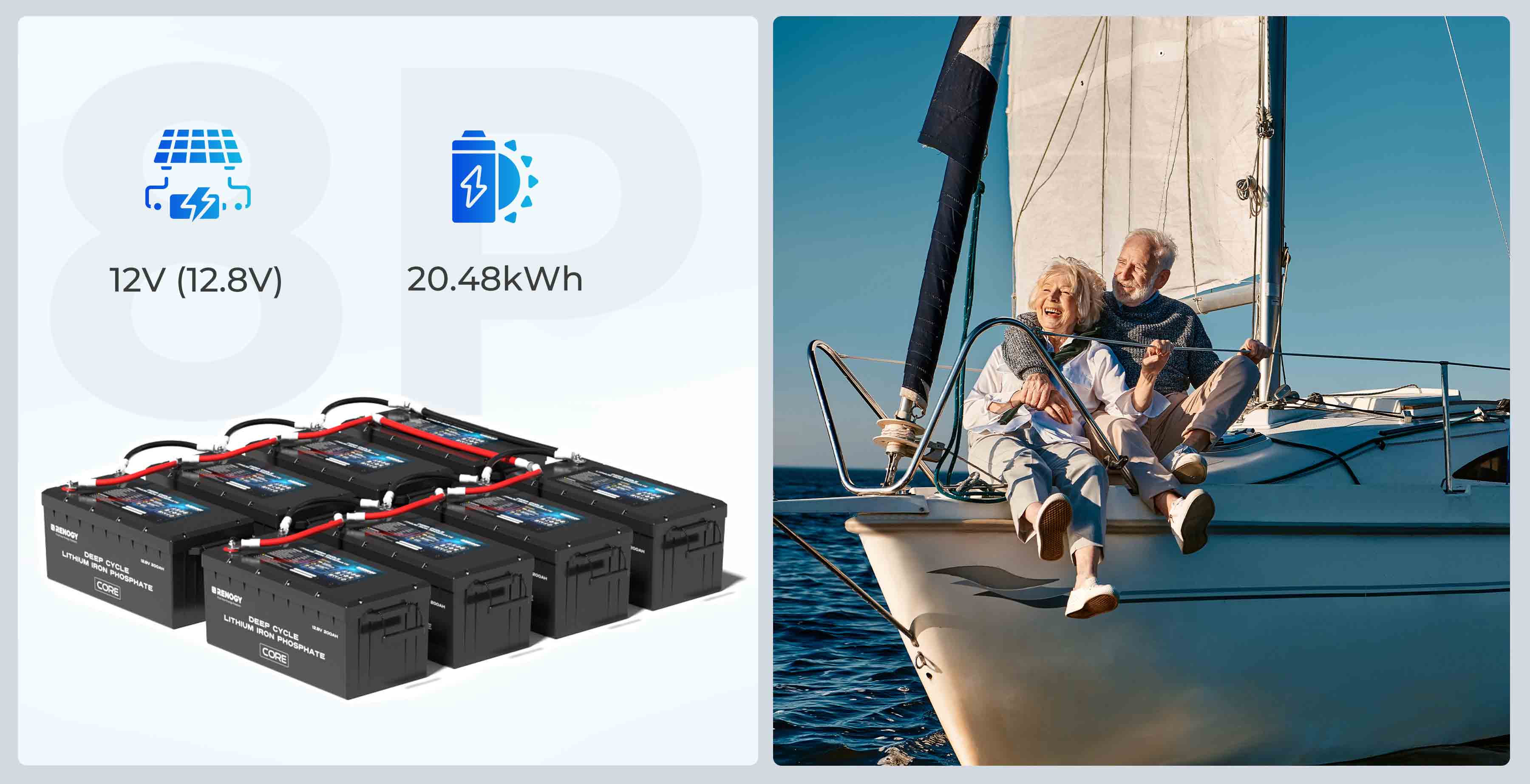 Connect in Series-Parallel
Considering stepping up both the voltage & capacity of your system? Try connecting sets of batteries in series-parallel to yield maximum power for getting prepared for emergencies like outages and hurricanes.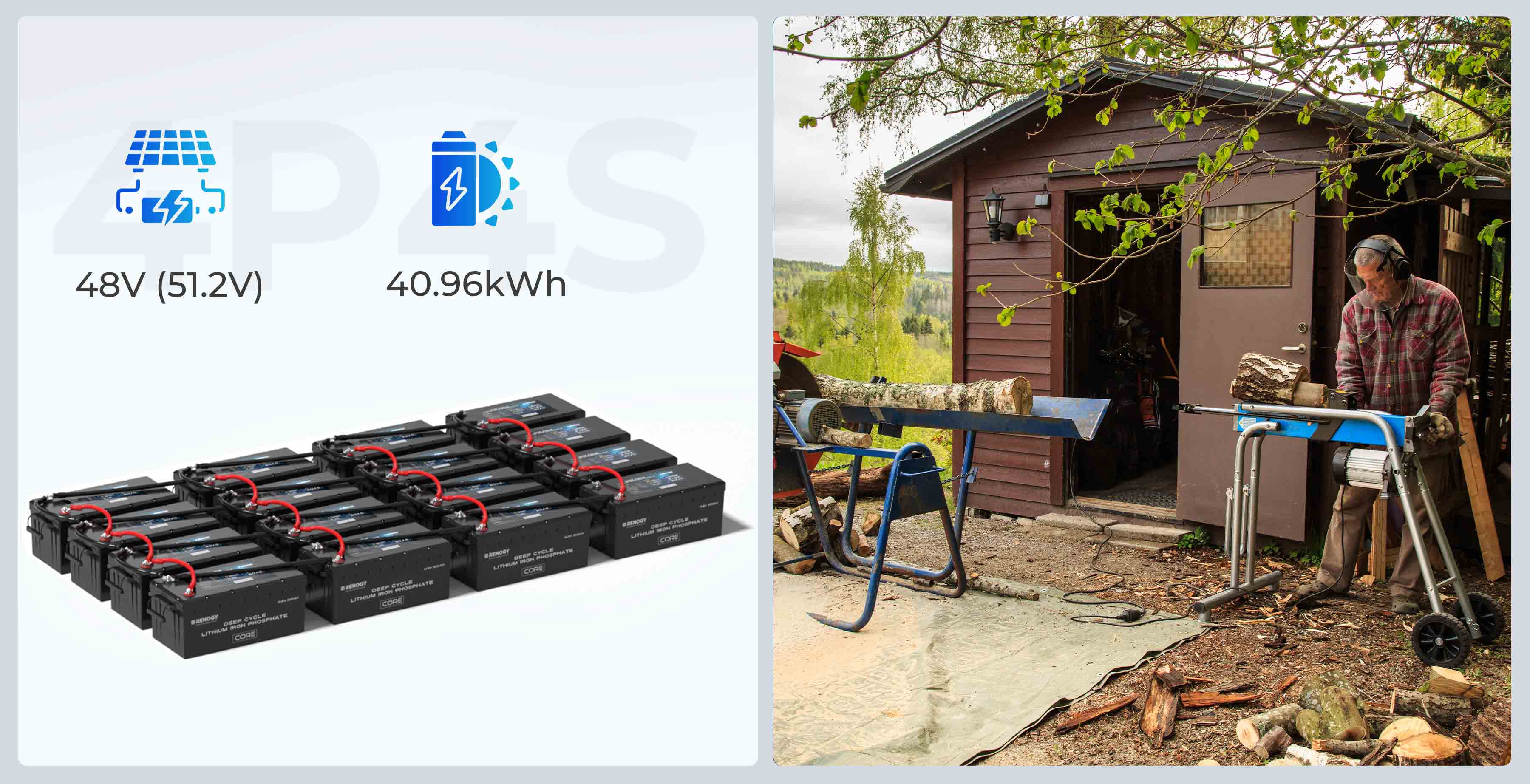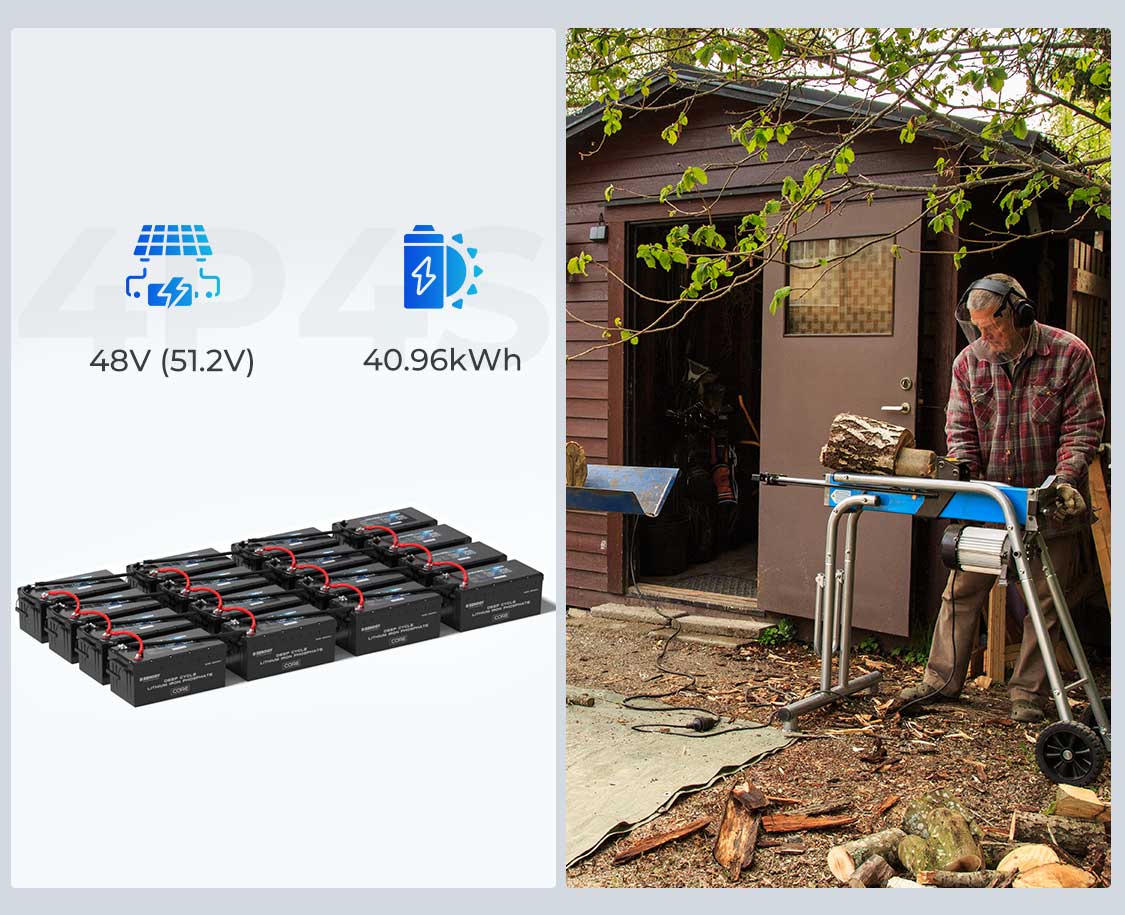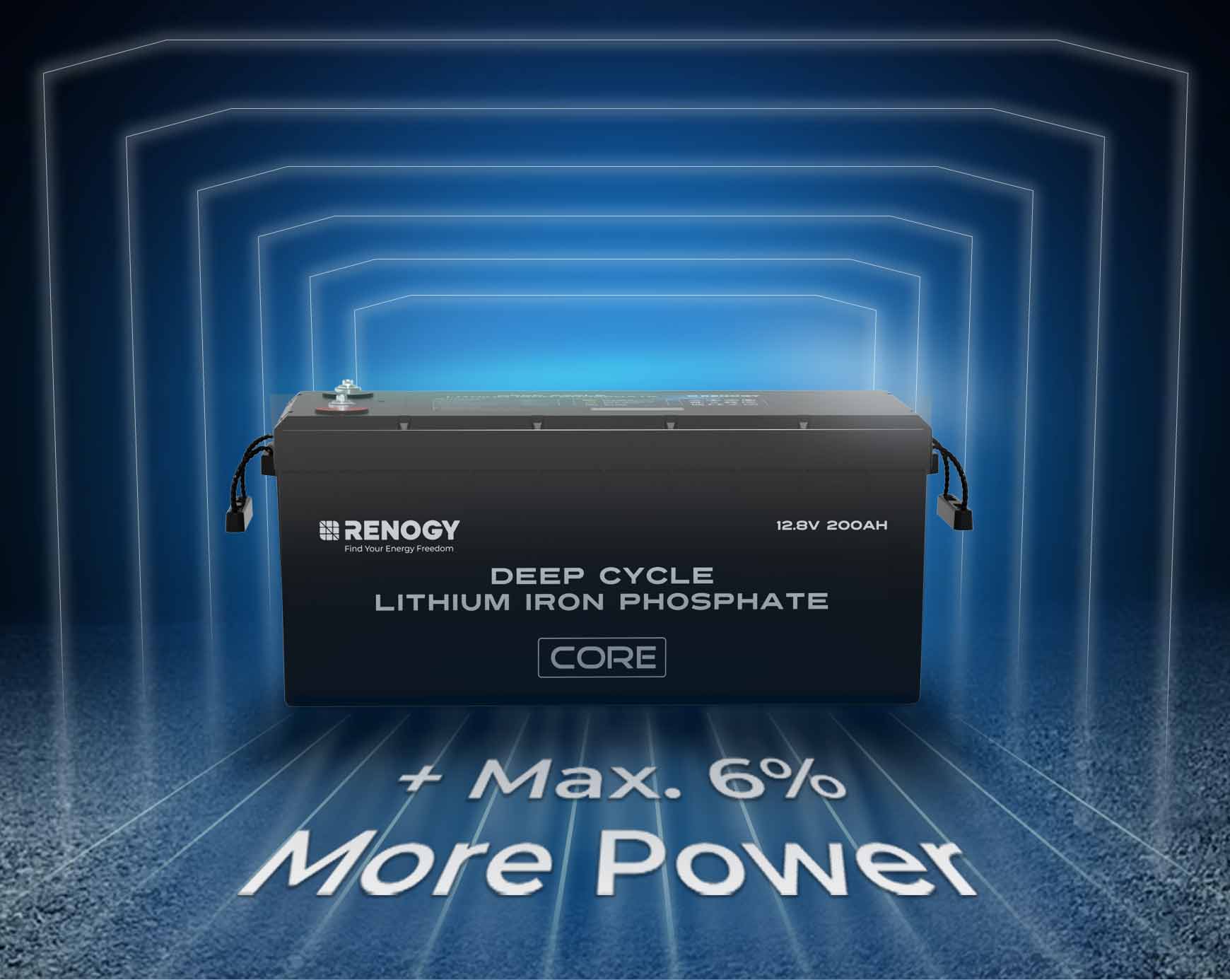 Extra Juice. More Possibilities
Renogy 12V 200Ah Core delivers more than you imagine. Get max. 6% more capacity to brace for the unexpected storms, hurricane, wildfire, and other challenges whenever you need.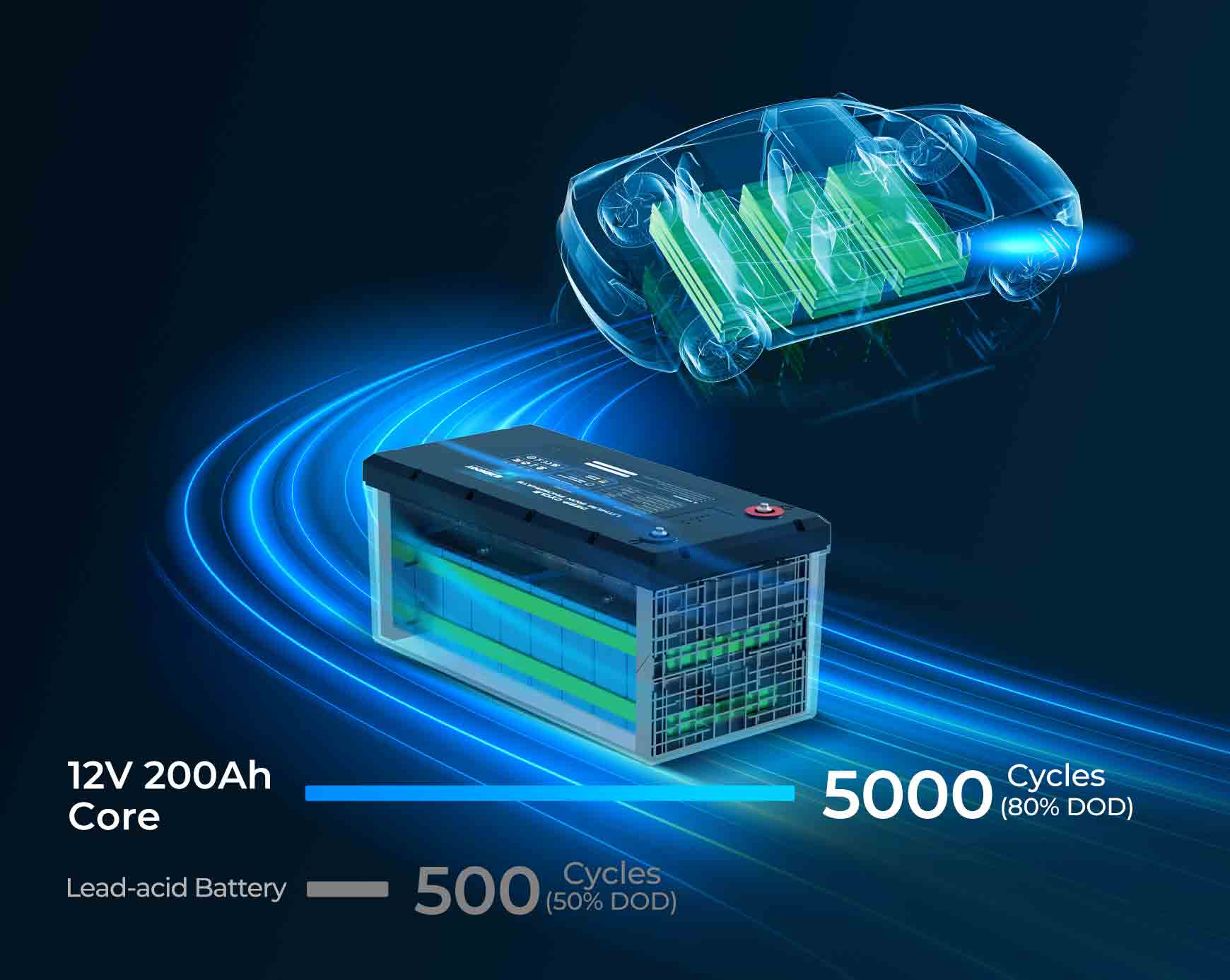 Powerful to the Core
Offering you consistent power that is almost 10 times longer than an average lead-acid battery, Renogy 12V 200Ah Core LiFePO4 Battery features ev-grade battery cells to ensure lasting performance.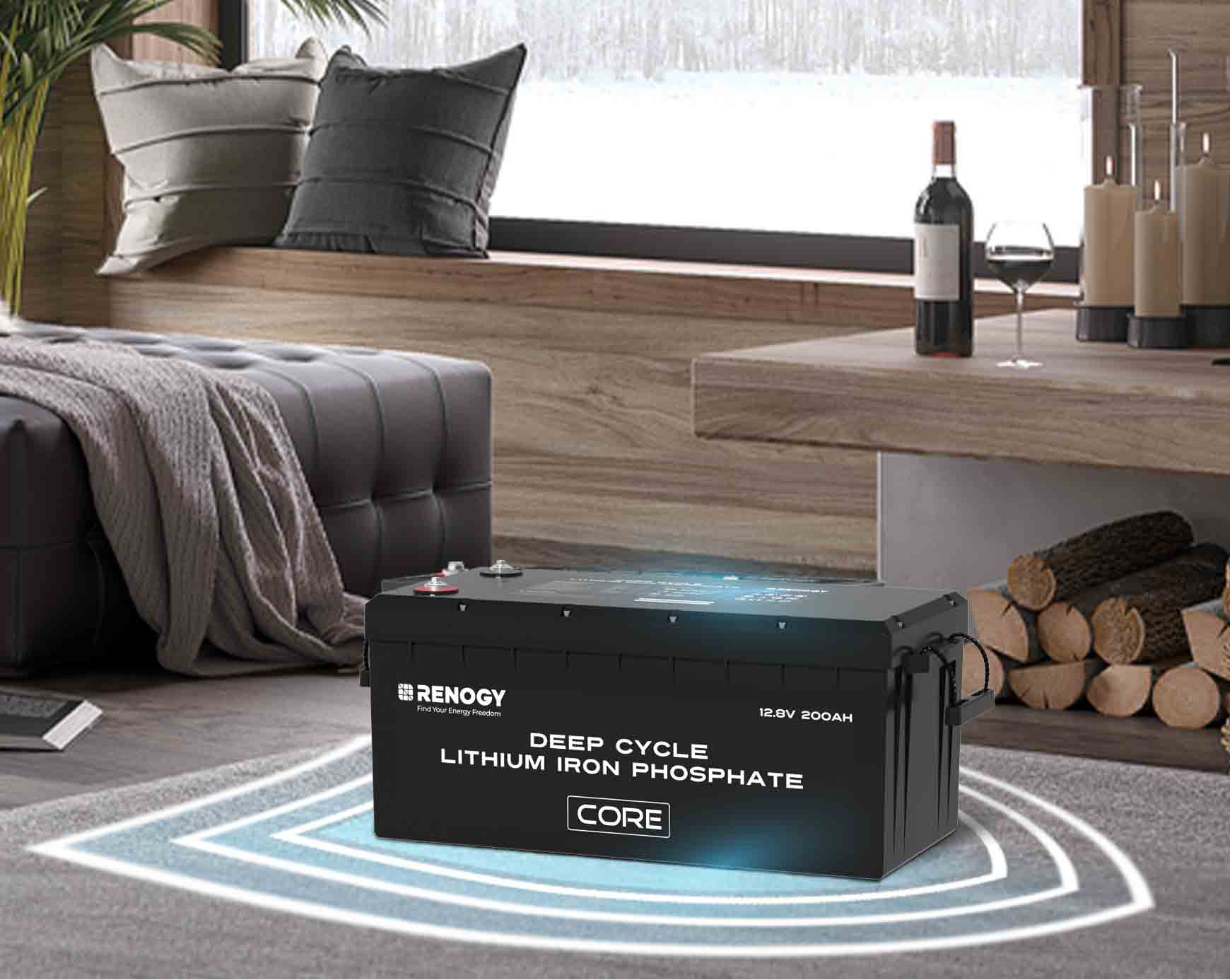 Year-round Protections
The built-in 200A battery management system (BMS) brings you peace of mind for all-year-round use. The low-temperature cut off actively prevents your battery from charging when the mercury plunges below 32°F.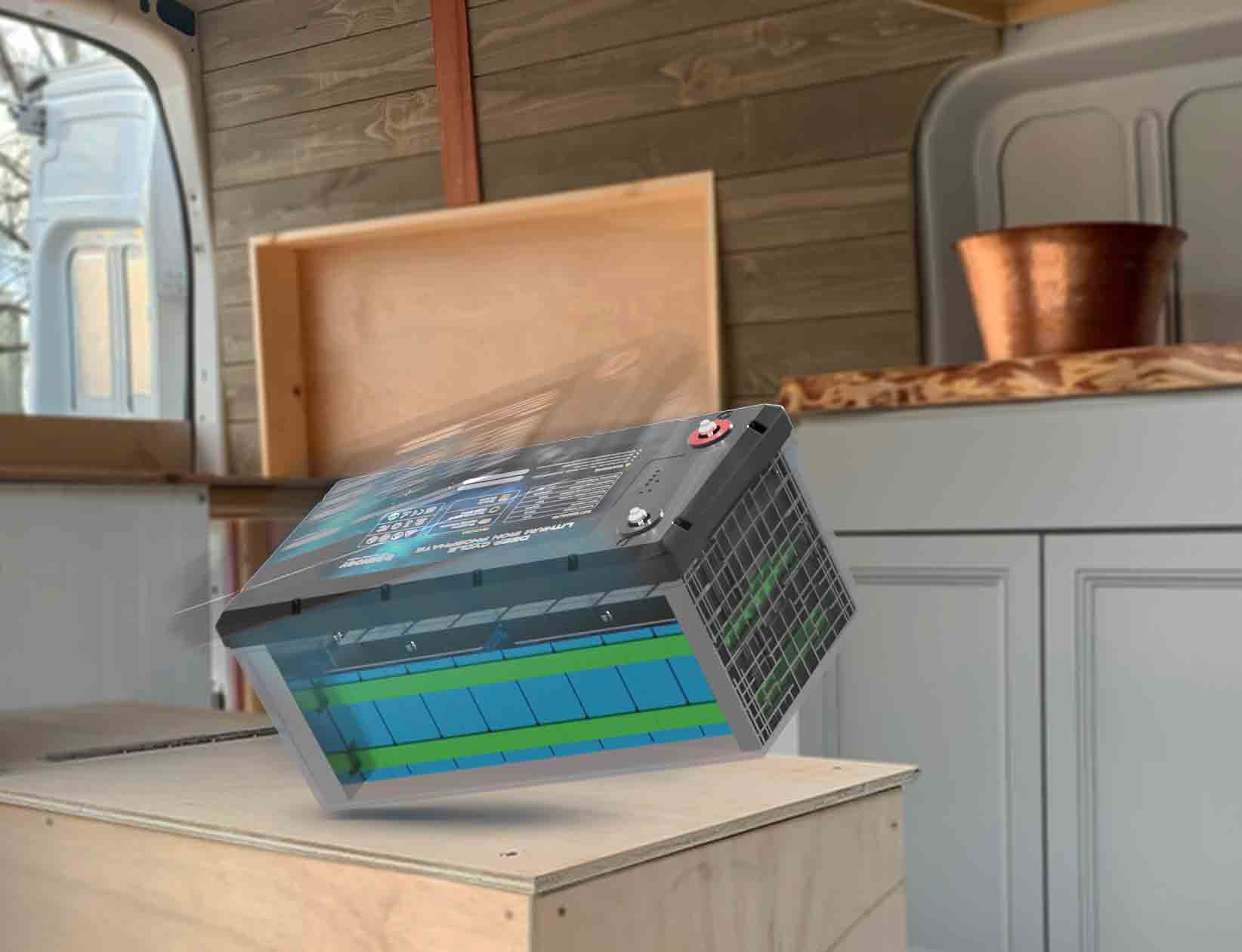 Protections from Bumps
We know that it always take a bumpy ride before arriving your dream destination. With that in mind, the battery comes with rugged structural design to protect components from bumping up and down on the road.
The Renogy Difference
Going solar is not that complicated. Renogy is here to help you build your system faster so you can roam further.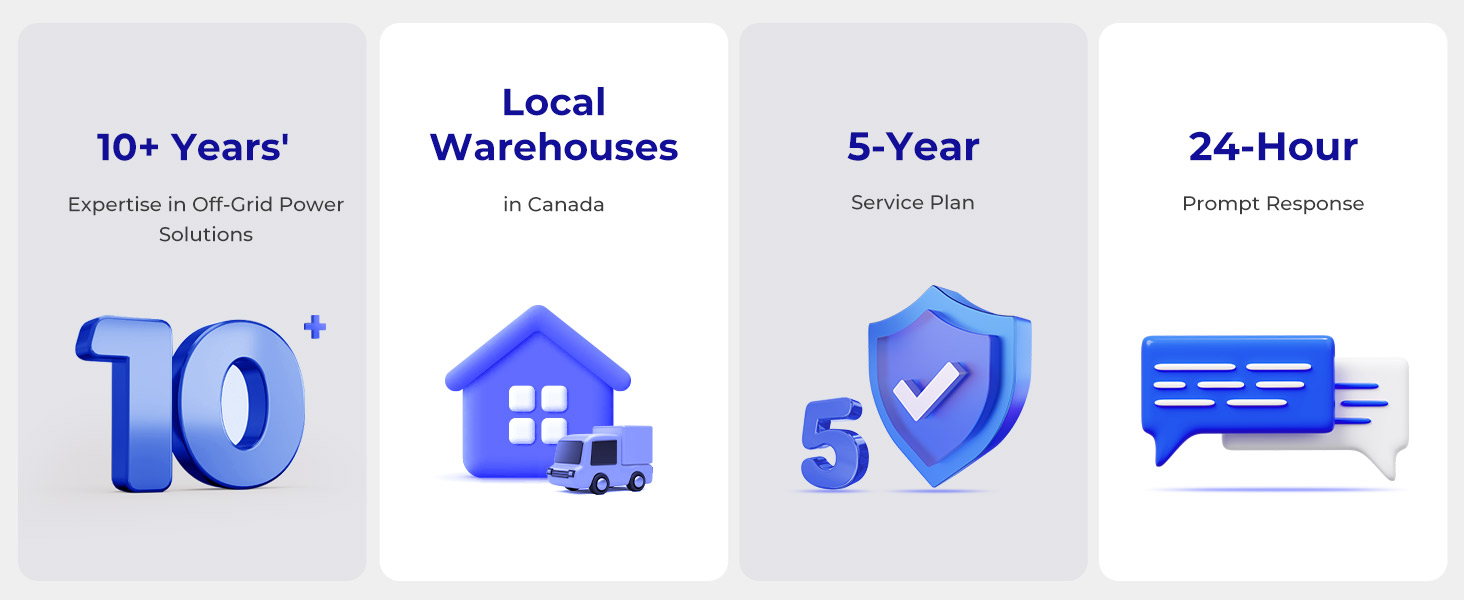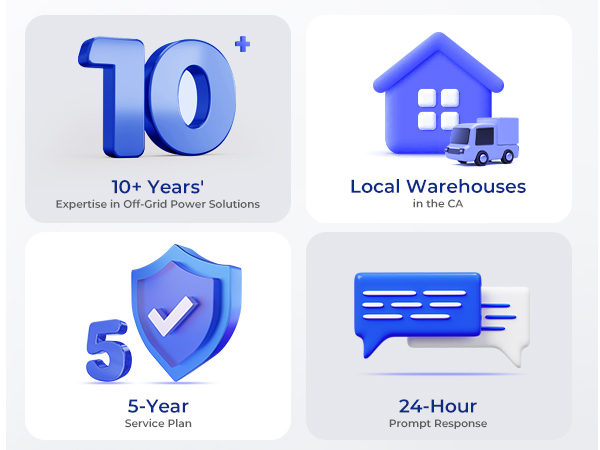 What's in the Box
Going solar is not that complicated. Renogy is here to help you build your system faster so you can roam further.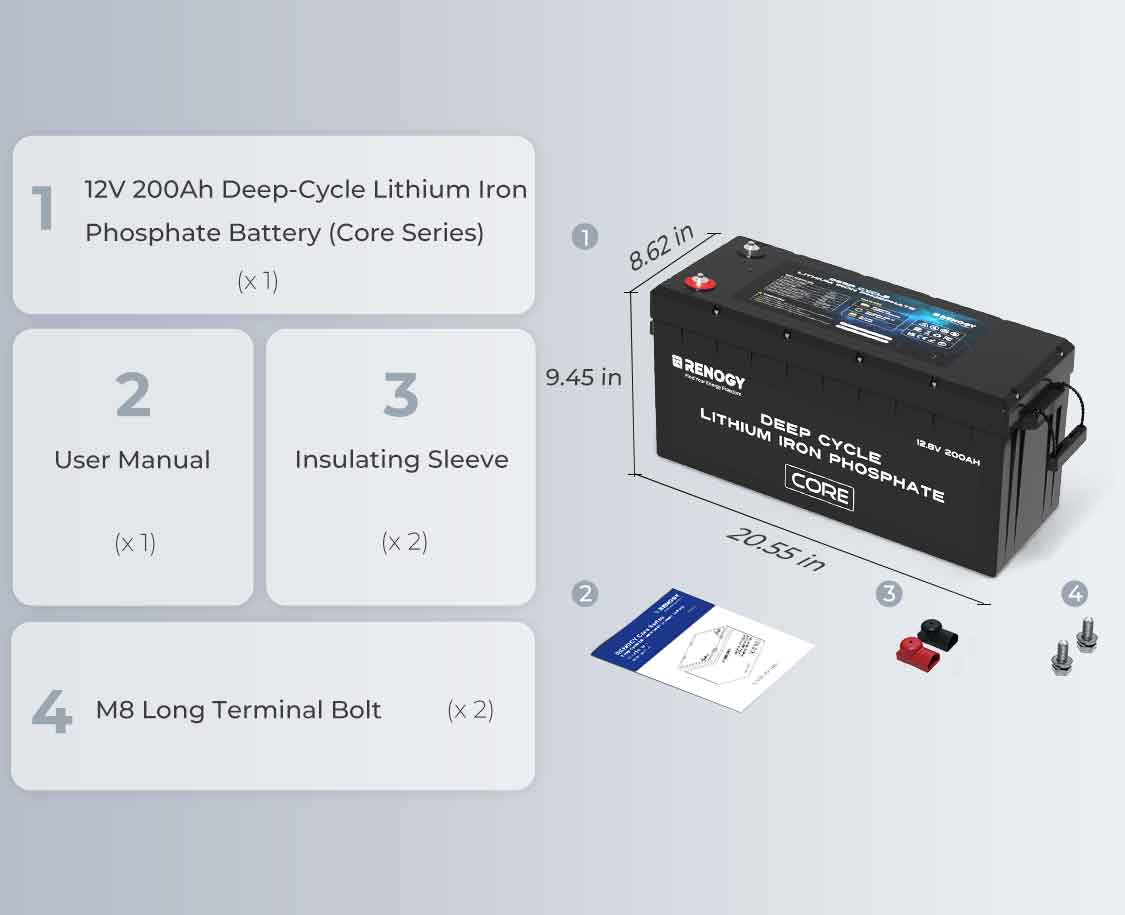 Connect with Renogy customers.
Go to Power Plus Community
Still have questions?
Ask our specialist
Package Includes
Core - 12V 200Ah Lithium Iron Phosphate Battery

1 x

Long Terminal Bolts

2 x M8 x 1.25 x 20 mm

Insulating Sleeve

2 x

User Manual

1 x
Renogy 12V 200Ah Core Series Deep Cycle Lithium Iron Phosphate Battery

Electrical Specifications
Temperature Parameters
Rated Capacity (0.5C, 25°C)
200 Ah
Operation Temperature Range
Charge: 32°F to 131°F / 0°C to 55°C
Nominal Voltage
12.8 V
Operation Temperature Range
Discharge: -4°F to 140°F / -20°C to 60°C
Energy
2560Wh
Storage Temperature Range
-13°F to 149°F / -25°C to 65°C
Cycle Life(0.5C/1C, 25℃)
5000 Cycles (80% DOD 80% EOL)
Operation Relative Humidity
10% to 95%
Charging Parameters
Mechanical Specifications
Charge Voltage
14.4 V
Dimension (L x W x H)
20.55 x 9.45 x 8.62 in / 522 x 240 x 219 mm
Maximum Continuous Charge Current
100 A
Weight
47.3 lbs. / 21.45 kg
Discharging Parameters
Terminal Bolt Size
M8 x 1.25 x 15 mm
Maximum Continuous Discharge Current
200A
Protection Rating
IP65
Peak Discharge Current
400A@10s
Certifications
Warranty
MSDS, UN38.3, FCC, PSE, CE, UKCA
YES
5-year material Warranty
1. I have 4 Renogy 100W 12V solar panels. Will these work with this LiFePO4 battery or is that too much wattage?
Yes, but please make sure that your solar charge controller is capable of handling the power your solar panels can output. Do not connect solar panels directly to batteries without a solar charge controller. Feel free to contact us if you have questions about how to size the solar charge controller for your system.
2. Can this battery be used in series to build a 48-volt system?
Yes. Renogy 12V Core Series Batteries can be connected in series to ramp up voltage for a 24V, 36V, or 48V off-grid power system. You can also consider wiring batteries in series first and then wire sets of batteries (same models required) in parallel for maximum power up to 40.96kWh.
3. How many Renogy 12V 200Ah Core Series Batteries can I connect at most?
The Core Series batteries support versatile connections, including series, parallel, and series-parallel connection. You can connect up to 4 batteries in series, 8 in parallel, or 16 in the series-parallel connection. Batteries of the same model and similar capacity are required.
4. How long will the Renogy Core Series Lithium Iron Phosphate Battery last?
Renogy 12V 200Ah Core Series Batteries are capable of delivering 5000 cycles with a recommended 80% depth of discharge (DOD). Meanwhile, these batteries combine a true 200A battery management system (BMS), IP65 protection, and rugged structure design to brace for challenges wherever you go.
5. Can I pair a Bluetooth Module for this battery to monitor the battery status on the phone?
No. This battery is not compatible with the Bluetooth module. You can use a 500A Battery Monitor With Shunt (sold separately) to keep track of battery status.
6. How to recharge my LiFePO4 batteries?
Whether you prefer charging batteries via solar, a DC-DC battery charger, or an AC-DC charger, we highly recommend a solar charge controller/charger that is compatible with lithium iron phosphate batteries.
7. What should I do when I receive the battery?
When you receive your battery, please be aware that it may have a low State of Charge (SOC) due to the transportation and storage process. To ensure its optimal performance, we recommend charging the battery right away to avoid over-discharge. If you plan to store the battery for an extended period without usage, we suggest charging it to a SOC of 30% to 50% and performing maintenance every three months. These steps will help maintain its functionality and performance over time.
More questions about your off-grid power system? Learn more from

Renogy Learning Center

!