Description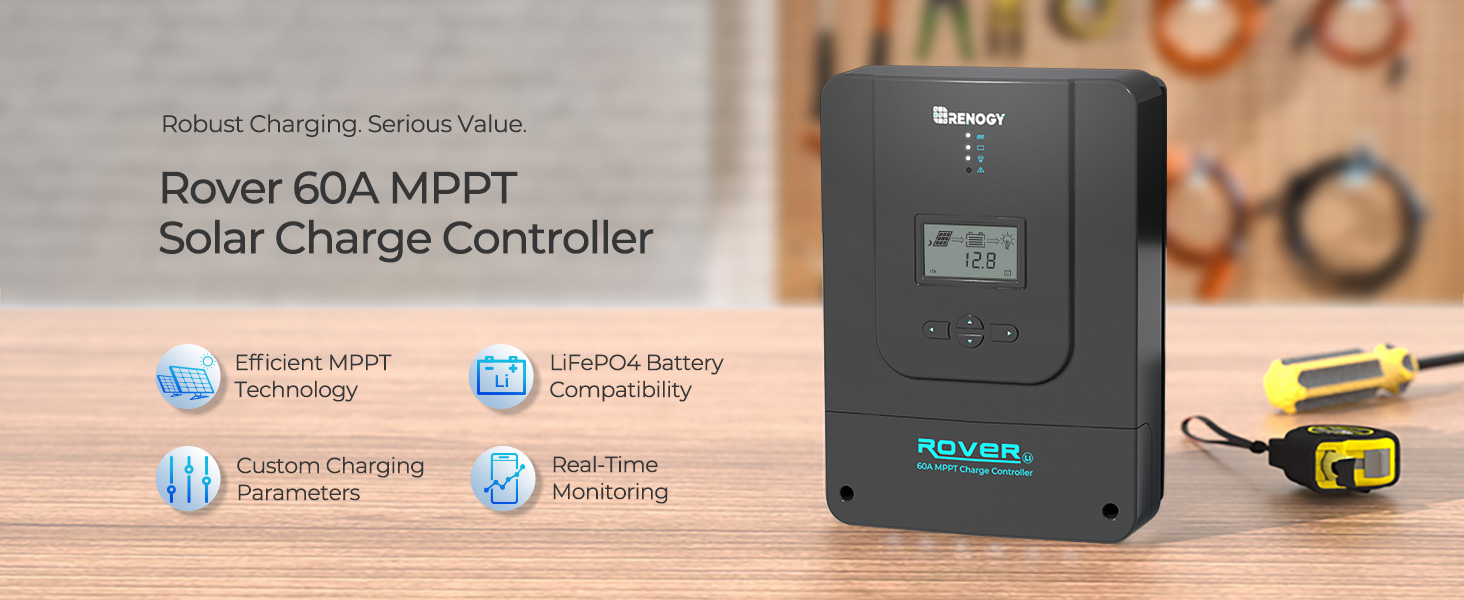 Renogy 60A Rover MPPT Charge Controller is an intelligent negative ground controller. Built with protections against reverse polarity, short-circuiting, overheating, and more, this MPPT controller can self-diagnose itself in the event of an error. Its durable shell protects against general wear and tear, and aluminum heat sink allows for heat dissipation. The Rover 60A can automatically detect 12V/24V/36V/48V systems (for non-lithium batteries) and can handle various battery options such as GEL and Lithium. Pair this charge controller with the Renogy BT-1/BT-2 Bluetooth module and DC Home app to view your system's performance in real time and make parameter changes straight from your smart device.
If you have any questions regarding this product, please submit a case.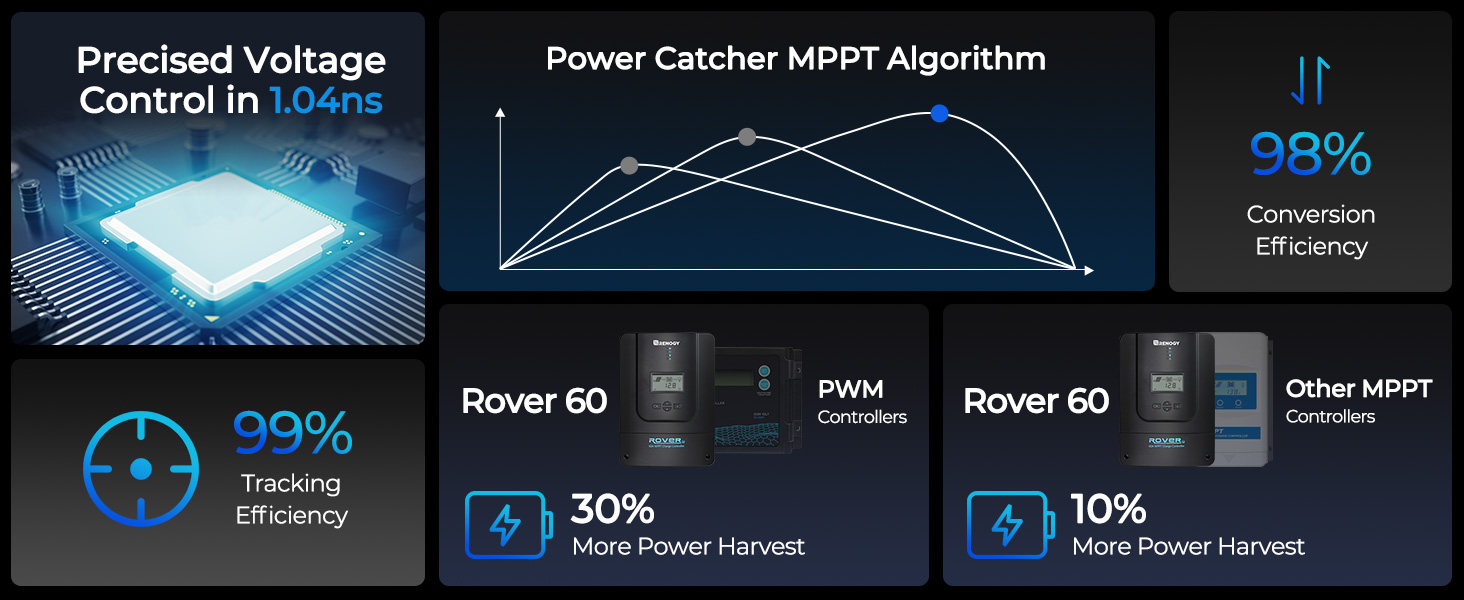 Key Features
【Innovative MPPT Design】
With a blazing fast chip and PowerCatcher Maximum Power Point Tracking technology, Renogy Rover MPPT Solar Charge Controllers can constantly monitor your solar panels' peak output. Even when the solar panels are partially shaded or subject to microcracks, the Rover Solar Charge Controllers maximize the solar yield with an efficiency of up to 99.9% to top up batteries.
【Safe & Reliable】
Renogy Rover MPPT Solar Charge Controllers provide 8 essential protection features to safeguard solar panels, batteries, and load from overvoltage and other hazards. Working with a compatible temperature sensor allows the Rover series to watch the temperature of batteries and adjust the charging voltage accurately for optimized charging efficiency and extra protection against overheating.
【Real-Time Monitoring via Bluetooth】
Integrated with an RS232 port and RS485 port, Renogy 60A Rover MPPT Charge Controller can work with a BT-1 or a BT-2 Bluetooth module to deliver real-time energy data across the DC Home smart phone app & Renogy ONE M1.
【Smartly Recharge Your Batteries】
Built in with a 4-stage intelligent charging algorithm and preset charging modes for various batteries, including lithium, sealed, AGM, flooded, and gel batteries. For lithium batteries, the Renogy Rover Solar Charge Controllers allow you to set the voltage from the start. So it can provide tailored protection for your lithium batteries during the charging process.
【Industry-Leading Solar Technology】
Trusted for over a decade, Renogy fuses its years of experience in the solar industry with DIY-friendly design to versatile and reliable energy solutions for power independence.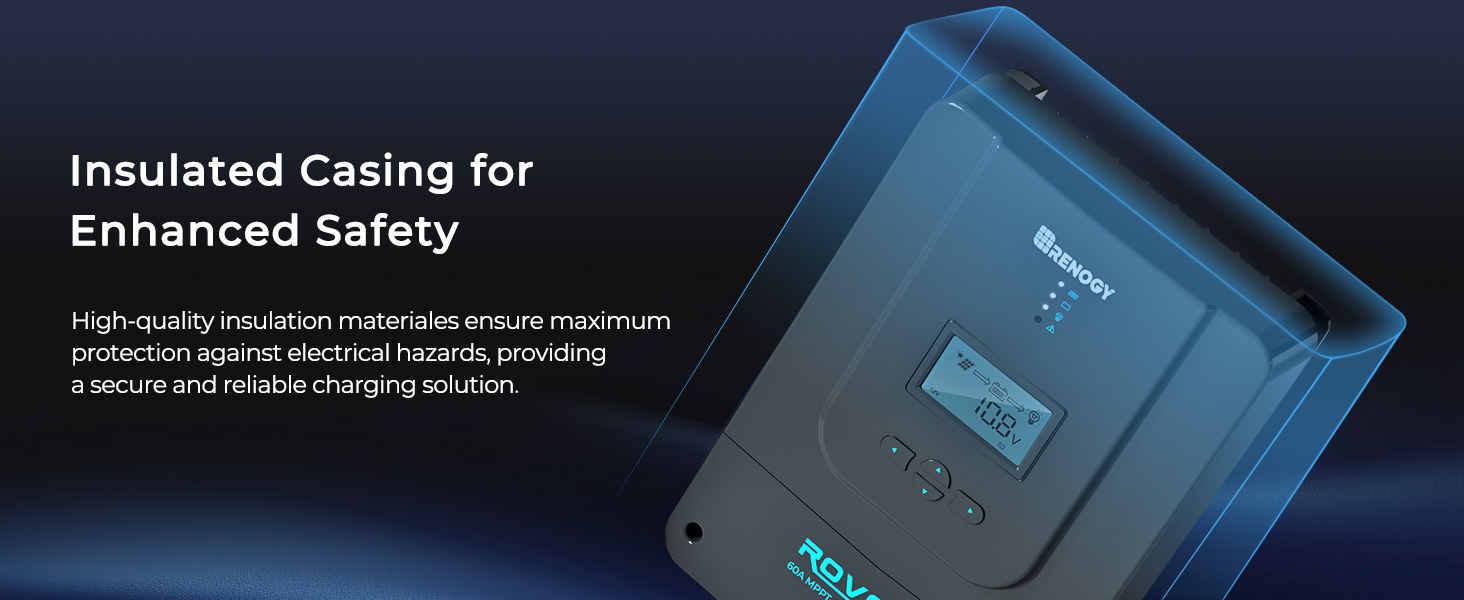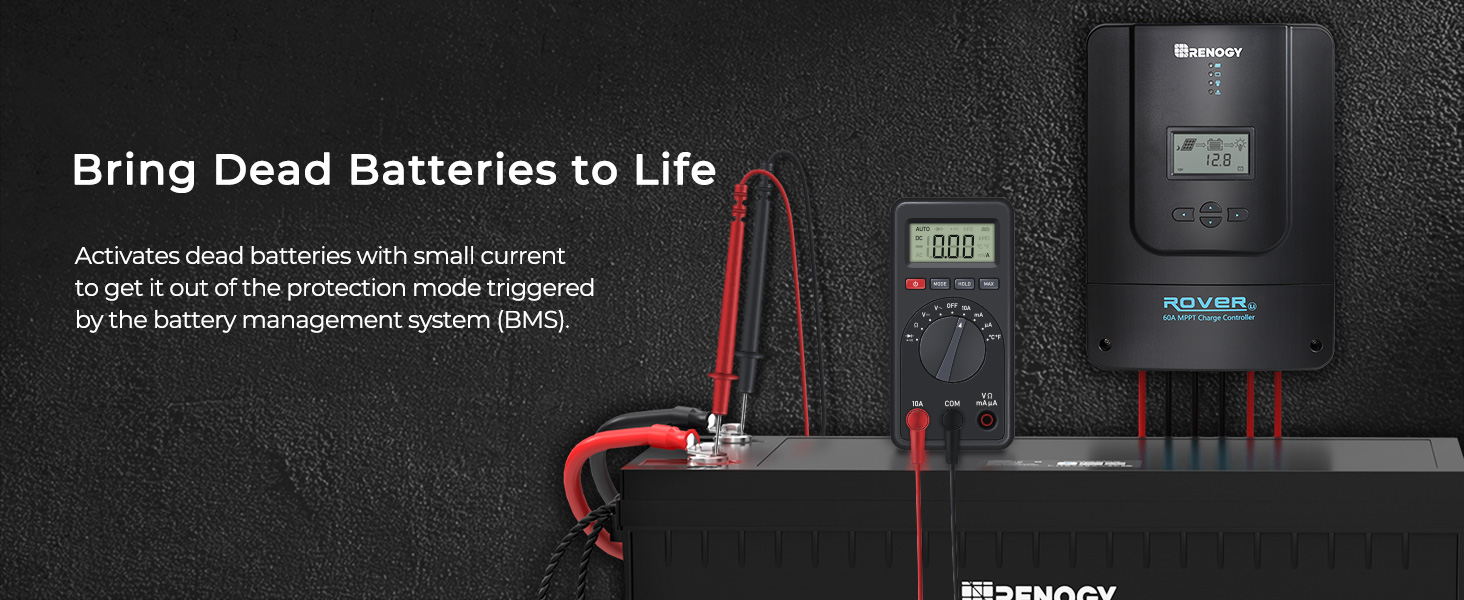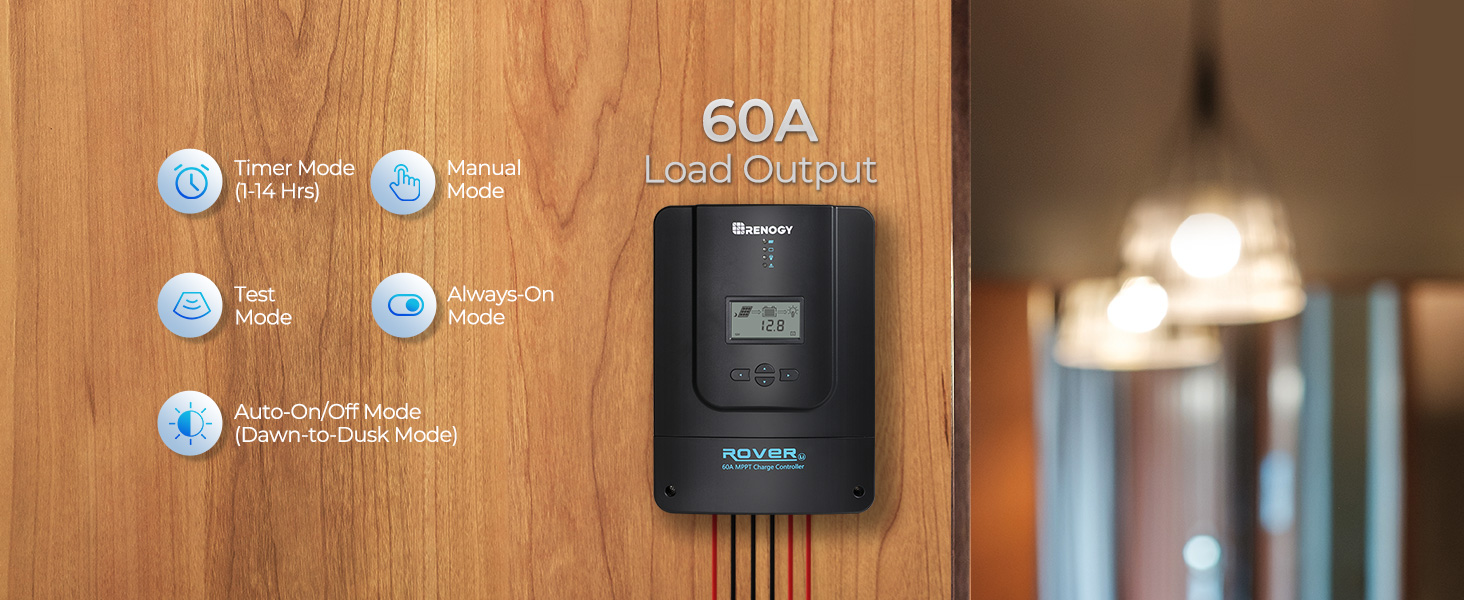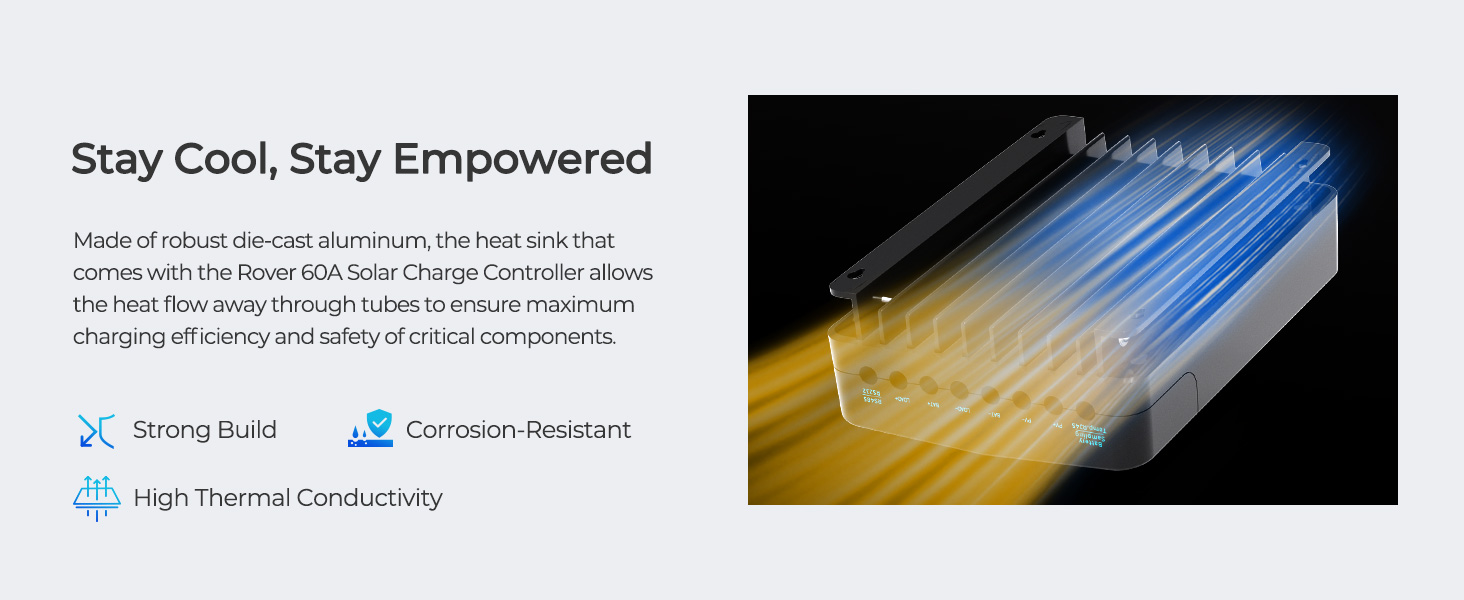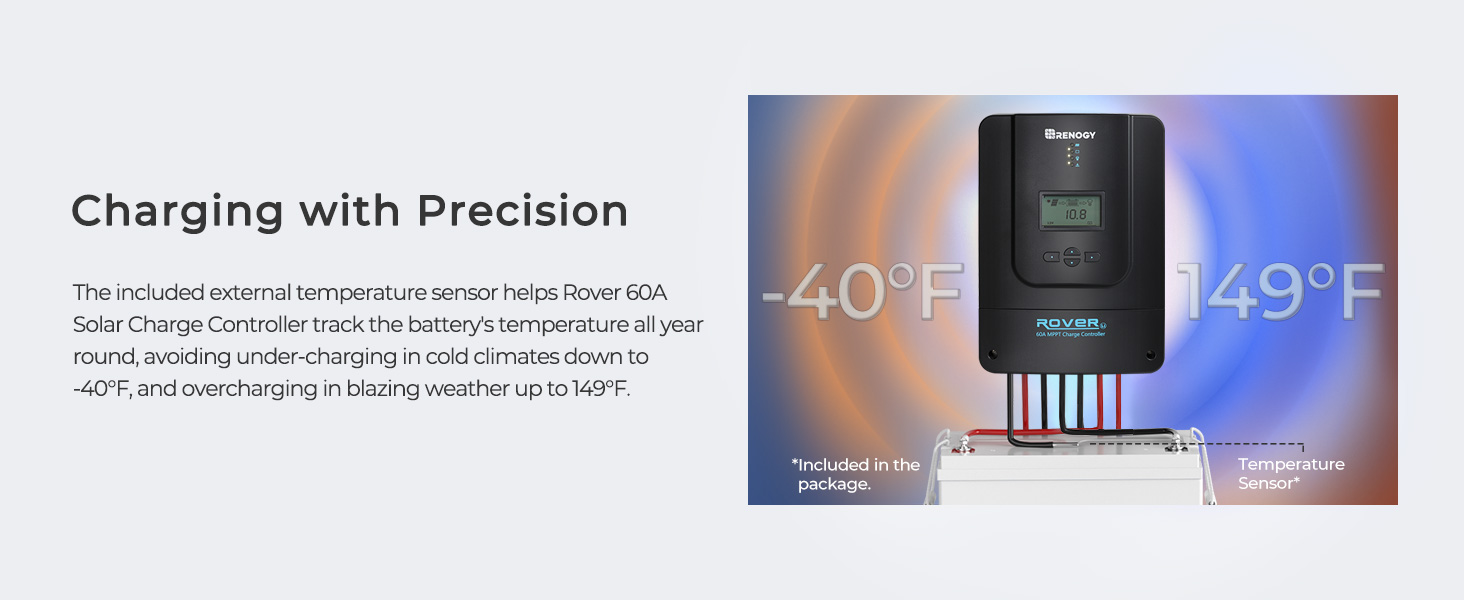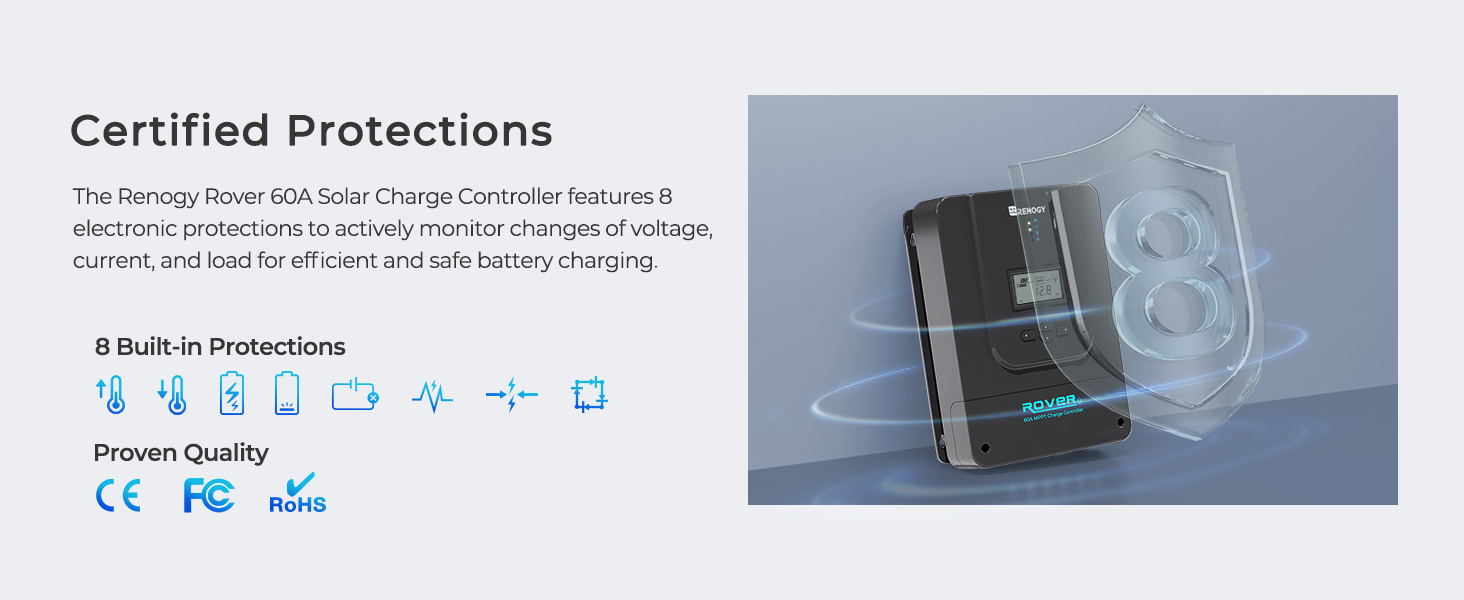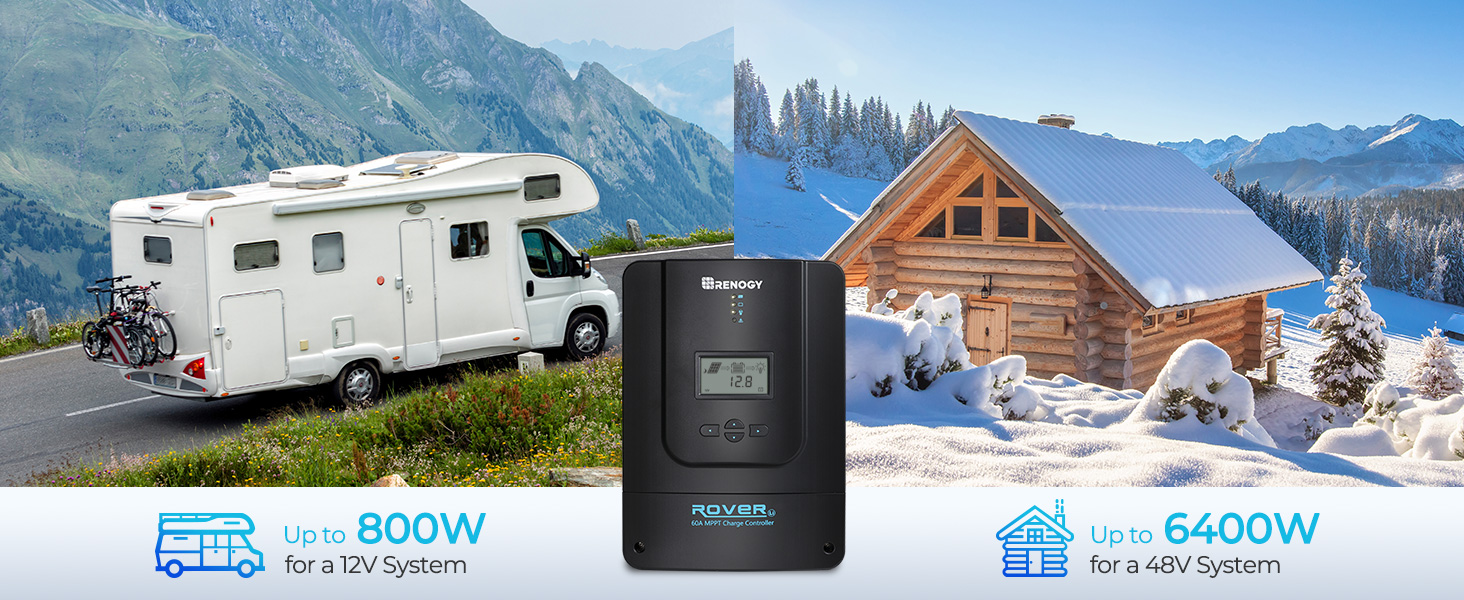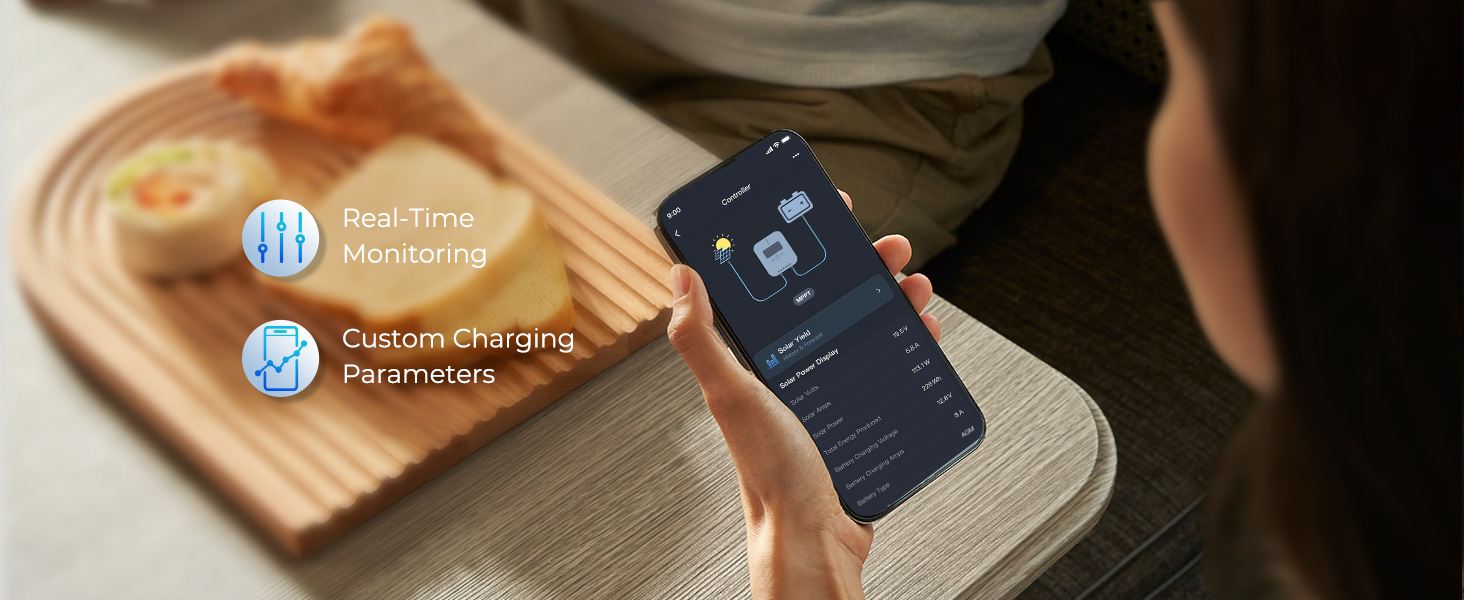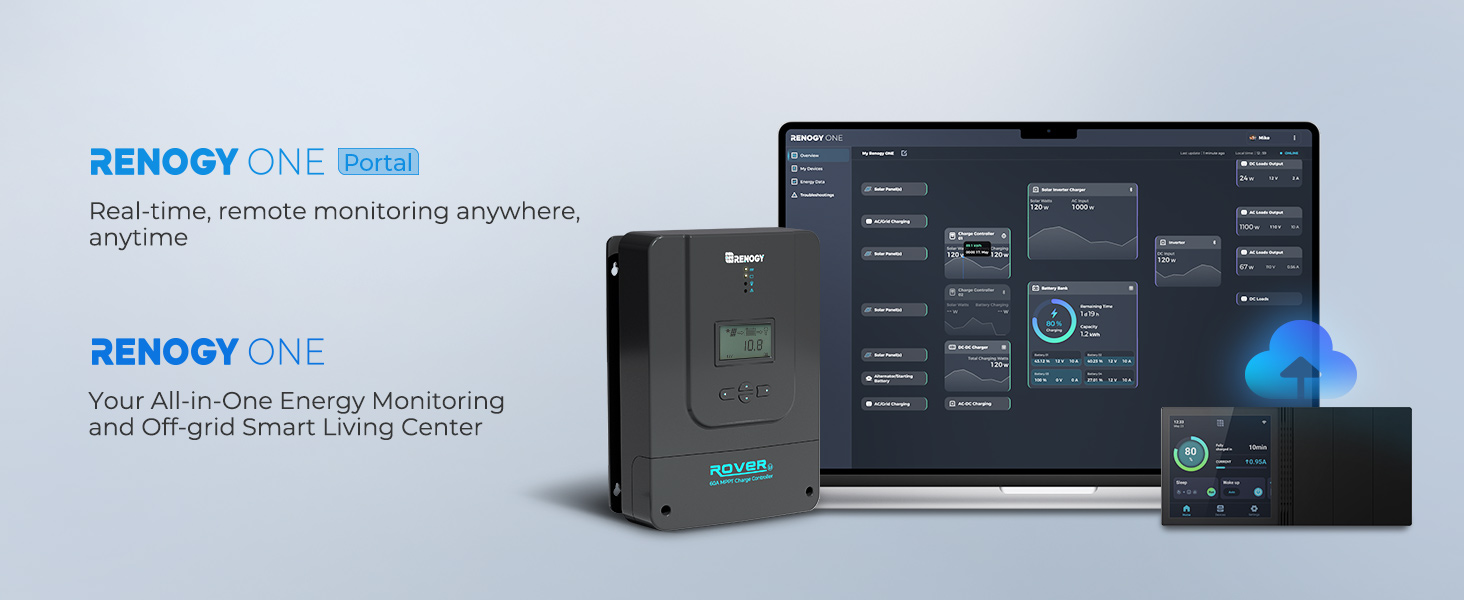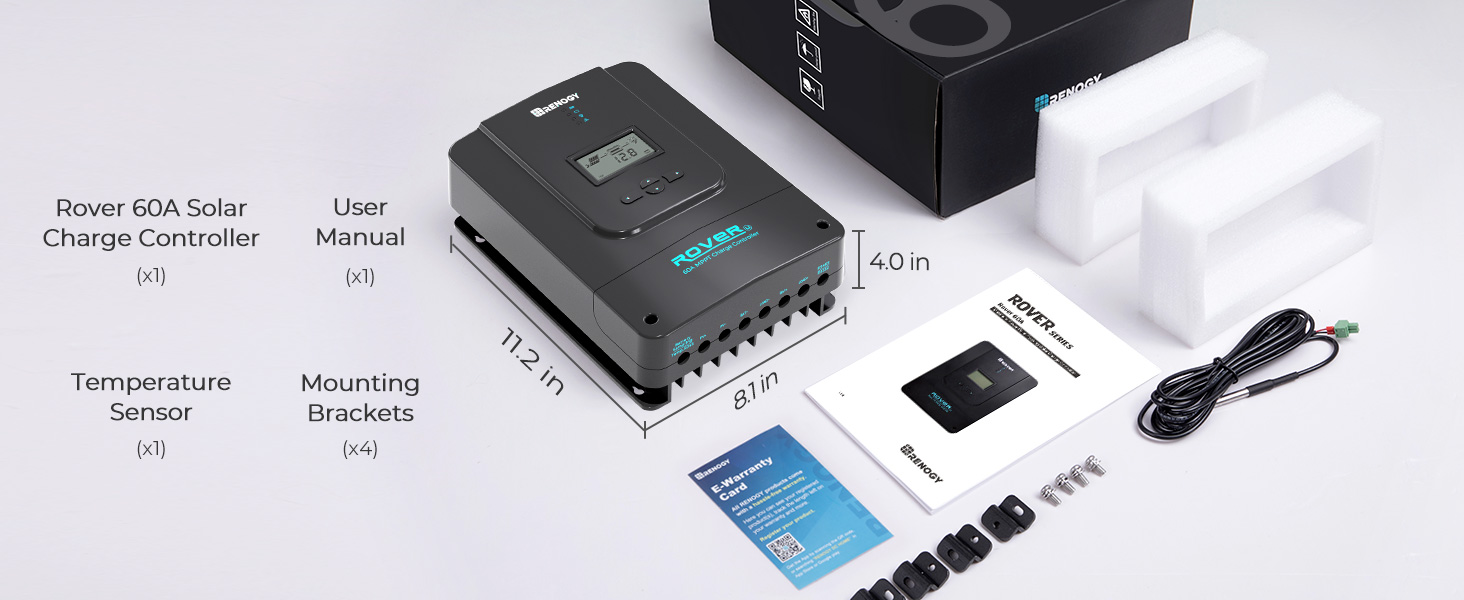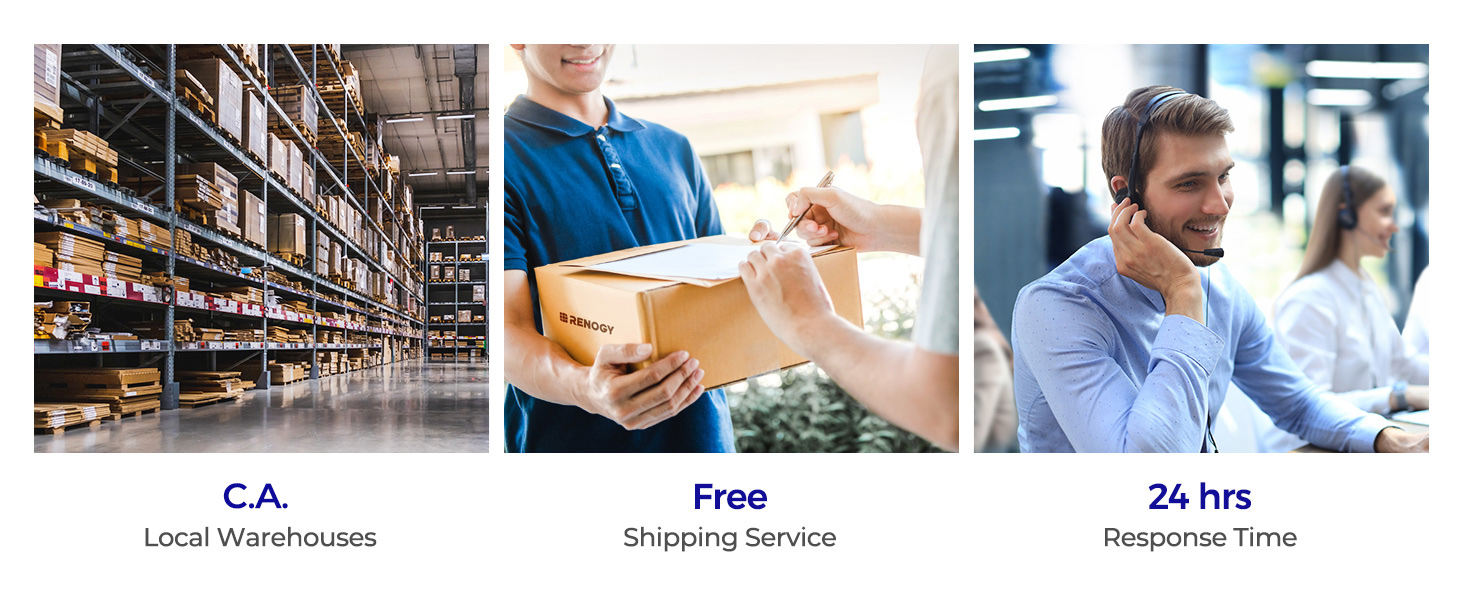 Package Includes
Rover 60 Amp MPPT Solar Charge Controller

1 x

Remote Temperature Sensor

1 x

Mounting Brackets

4 x

Options: BT-1 Bluetooth Module

1 x
| Rover 60 Amp MPPT Solar Charge Controller | |
| --- | --- |
| Nominal Voltage: 12V/24V/36V/48V Auto Recognition (for non-lithium batteries) | Rated Charge Current: 60A |
| Rated Load Current: 20A | Max. PV Input Power: 800W/12V; 1600W/24V; 2400W/36V; 3200W/48V |
| Max. PV Input Voltage:140VDC | Self-Consumption: 0.7W-1.2W |
| Operating Temperature: -31 °C to 113 °C | Temperature Compensation: -3mV/°C/2V (default) |
| Dimensions: 285 x 205 x 102mm (11.22 x 8.07 x 4.00in) | Weight: 7.9lbs |
| Enclosure: IP32 | Terminals: 25mm2 4AWG |
| Options: BT-1 Bluetooth Module | |
| Model: BT-1 | Input Voltage: 5V-12V |
| Standby Power Consumption: 0.04W | Operating Power Consumption: 0.05W |
| Communication Range: ≤15m | Serial Baud Rate: Fixed Baud Rate 9600bps |
| Cable Length: 5.00 m (16.4 ft) | Dimensions: 2.6 X 2.01 X 0.61 In |
| Installation Dimensions: 57.5, φ3.2mm (2.26, φ0.13in) | Operation Temperature: -20°C to 75°C (-4°F to 167°F) |
| Protection Grade: IP54 | Weight: 120 g (4.2oz) |
Warranty Information
| | |
| --- | --- |
| Accessories | 2-year material warranty |
Certification