Description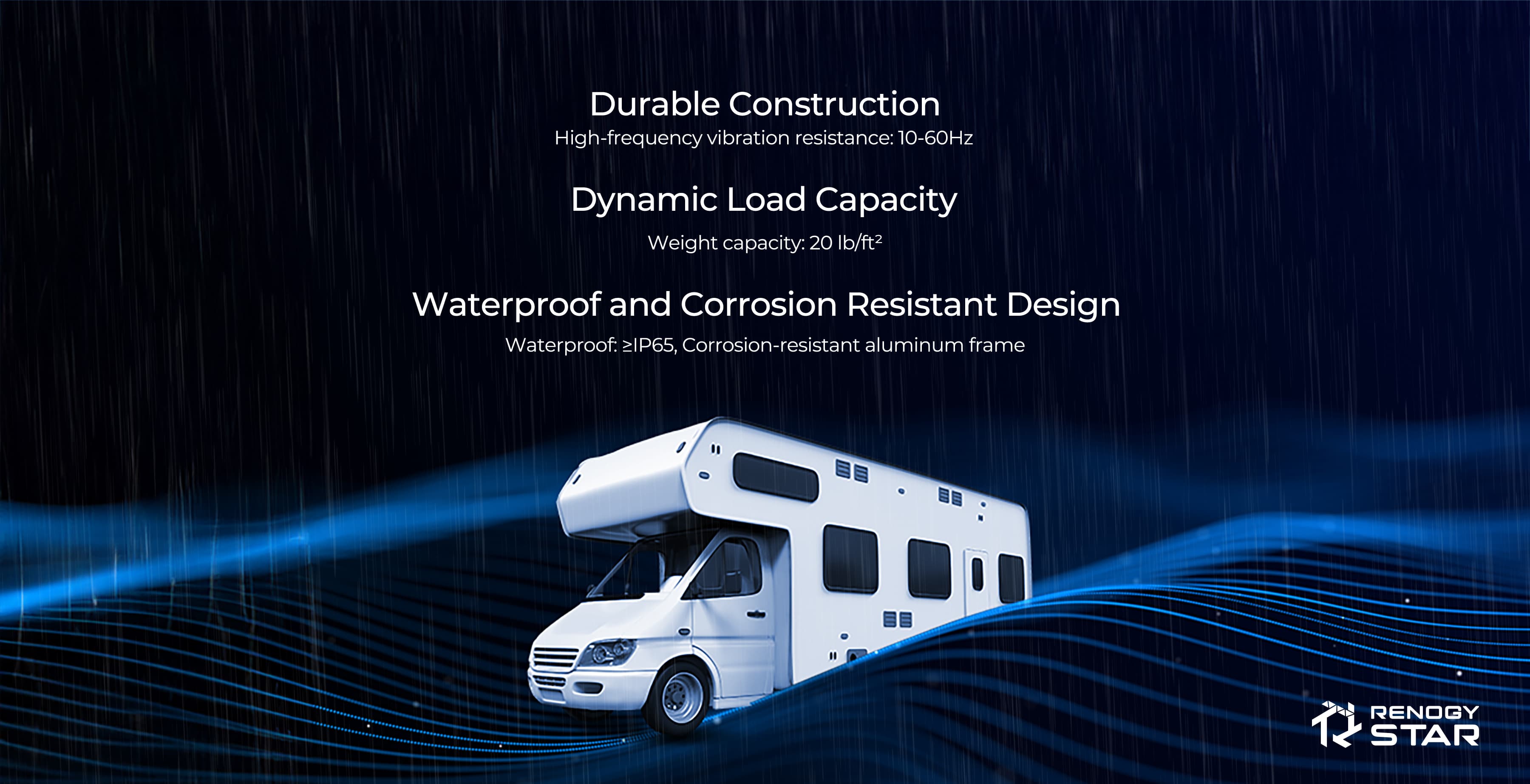 Compact, lightweight, and reliable. This Renogy 175 Watt 12 Volt Monocrystalline Solar Panel can provide an average of 875 Watt-hours (Wh) of electric power per day (depending on sun availability). This panel features an extended lifespan for outdoor use and high resistance against wind and snow, enabling wide applications including the rooftop, cabin, RV, boat, and more. Perfect choice to build up your first solar system or expand your power generating capacity.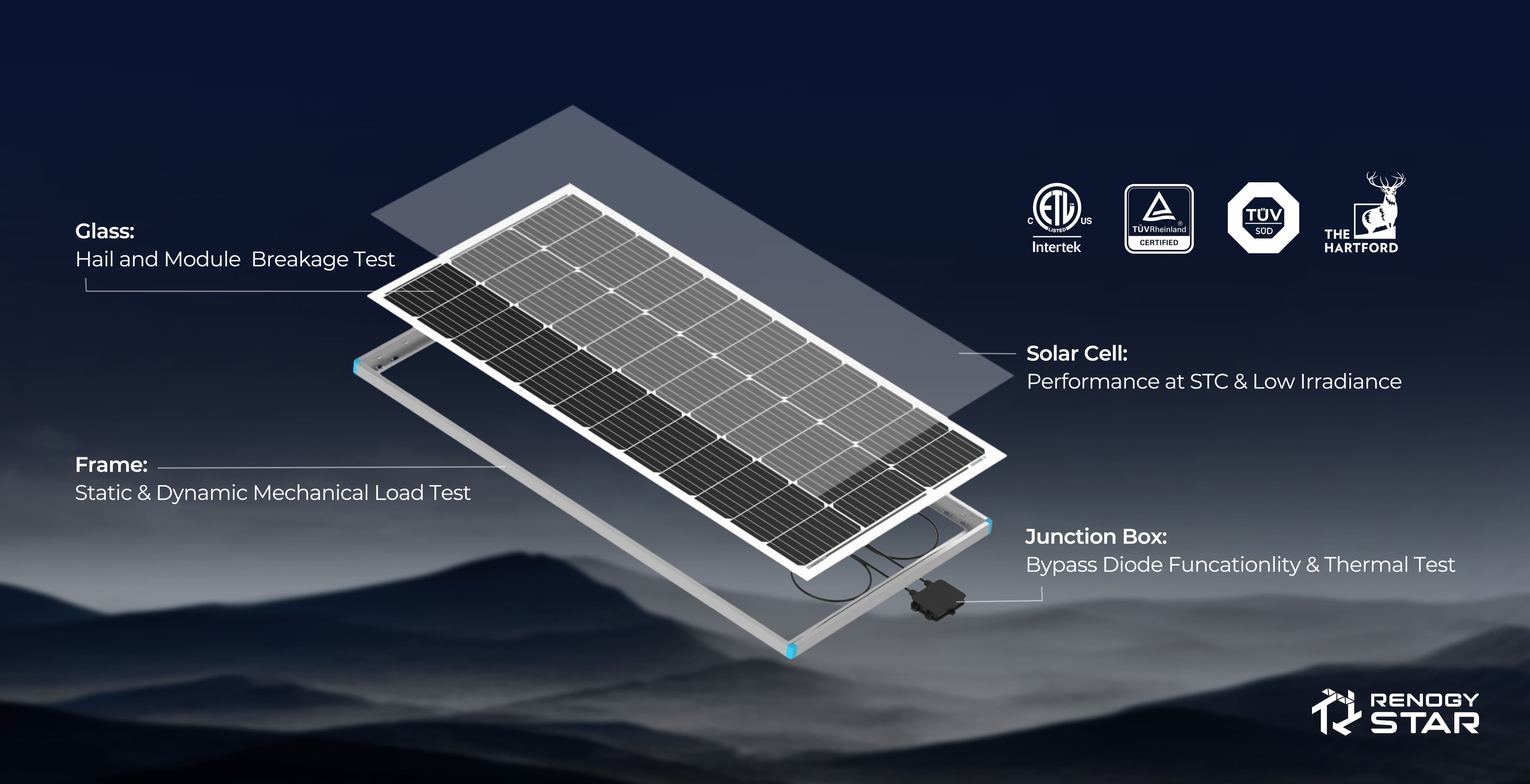 Since 2010, Renogy has gained rich experience designing and manufacturing the most efficient and robust solar panels and complete off-grid solar systems. Renogy's focus on testing, quality control, and traceability ensures our solar power system offers industry-leading reliability. Invest in yourself by going Renogy. Renogy solar panels will be your most economical long-term investment yet.
If you have any questions regarding this product, please submit a case.
Key Features
Reliable Power Output
This panel can provide 875 Watt-hours (Wh) of electricity per day (depending on sun availability).
Guaranteed positive output tolerance (0-3%).
High Efficiency
Mono cell, EL tested, no hot-spot heating, durable TPT back sheet, prevent dissipation of power to keep high efficiency and enhance longevity. Bypass diodes minimize power drop caused by shade and ensure excellent performance in low-light environments.
Rugged Structure
Corrosion-resistant aluminum frame, low-iron tempered glass. Back up your adventures with enhanced stiffness and impact resistance.
Weatherproof
IP65 junction box provides complete protection against environmental particles and low-pressure water jets. Withstand high winds (2400Pa) and snow loads (5400Pa).
Easy Installation
Pre-drilled holes on the back frame allow for fast mounting and securing. Compatible with Renogy ground mounts, Z Brackets, Corner Brackets, Pole Mounts, and Tilt Mounts.
Pre-installed corner protectors protect you from sharp corners and the solar panel frame from accidental impacts and failure.
Package Includes
175 Watt Monocrystalline Solar Panel
2 x
| Specifications | |
| --- | --- |
| Max Power at STC: 175W | Open Circuit Voltage: 21.6V |
| Short Circuit Current: 10.31A | Opitmum Operating Voltage: 18.1V |
| Optimum Operating Current: 9.67A | Operating Temperature: -40°F to 176°F (-40°C to 80°C) |
| Maximum System Voltage: 600VDC UL | Maximum Series Fuse Rating: 20A |
| Cables: 13 AWG 2.3ft long | Dimensions: 49.7x27.5x1.38 in (1262*699*35mm) |
| Weight: 22 lbs (10Kg) | Number of Cells: 64 |
| Junction Box: IP65 | Cell Type: Monocrystalline |
| Module Efficiency: 22% | IP68 Rated Waterproof Solar Connectors |
Warranty Information
Panels

25-year power output warranty: 5 year/95% efficiency rate, 10 year/90% efficiency rate, 25-year/80% efficiency rate

5-year material and workmanship warranty

Accessories
1-year material warranty
Certification
1.How many kWh a day does this solar panel produce?
If your solar panels are exposed to 5 hours of direct sunlight per day, it can provide an average of 700-875 Watt-hours (0.70 kWh-0.87 kWh) of electricity (depending on sun availability).
2. Why are my solar panels underproducing?
The performance of a solar panel may be hindered for a number of reasons. Most commonly environmental conditions, such as indirect sunlight, temperature rise, cloudy sky, and dirt and stain build up on the top glass, which can lead to a lower efficiency.
3. How can I connect solar panels to my electrical circuit (series vs parallel)?
Solar panels can be connected in series or in parallel to meet your electrical circuit size and power demands.
In series: the operating voltage output adds up, while the system current output is the same as that of one panel.
In parallel: the operating current output will add up, while the system voltage output will be the same as the output of one solar panel.
To achieve optimum power output and system rating for your power system, you can use both parallel and series connections.
4.How many solar panels do I need?
The best way to gauge how many solar panels you need is to understand the power load needed for your system.
Power is measured in watts, and the capacity is commonly measured in Watt-hours (multiplying power output in watts by the required number of hours of operation multiplied by a safety factor of 1.5-2). Therefore, it is wise to size your battery bank first based on the minimum required capacity, and then accordingly, decide how much input power and how many panels are needed.
5. Will this panel produce power in overcast conditions?
Yes, it will. Made of high-quality materials, this Renogy solar panel still works during cloudy weather conditions. But please note that the power conversion is not as high as on sunny days.
6. Do solar panels require maintenance? Can I wash my solar panels?
Yes, solar panels require maintenance. If a lot of dirt or stain piles up on top or in corners, the conversion of sunlight will be affected, resulting in lower efficiency. You can use a microfiber cloth, glass cleaner, and water to clean your solar panels.